In case you haven't liked the Sistas of Strength page on Facebook and haven't had a chance to see this yet…Mike and I were on the news yesterday!
How cool is that? We filmed a few weeks ago, but the segment aired yesterday. Watch the "Does it Work?" segment on NECN to see Mike and I working out, talking a little about SOS (and sweat issues) and finally, doing some laundry to test out Raise Armpit Stain Remover! (Don't worry..it's only a few minutes long!)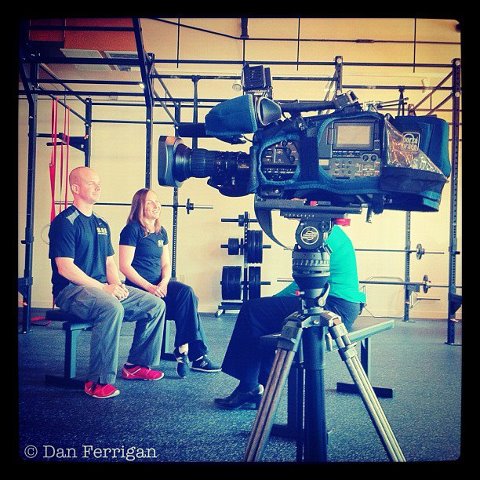 (Picture from Dan Ferrigan)
As you can probably gather from some of my recent posts, I haven't been relaxing much. Even if I wasn't busy being in the news, working full time, teaching at SOS on Tuesday nights, getting my RKC, planning a baptism and first birthday party, and teaching kettlebell classes to the ladies of Athleta I probably wouldn't be relaxing. Or at least not relaxing as you might think of it.
SOS is closed on Memorial Day and my husband actually gets two full days off from from work so we're going to try to relax this weekend. For me that means kettlebell workouts, extra snuggles with my son and some red wine.
It honestly takes awhile for me to relax…it's not in my nature. If I have an afternoon where I have nothing urgent to do I am lot more likely to use that time to be productive and check things off my list than I am to really relax. I am always go-go-go, but I think that's why my workouts are generally so focused. It's my time for me and truly does help me to relax and set the tone for the day. I guess in a way that makes me lucky. I experience extra benefits (health-wise) from my chosen way to relax.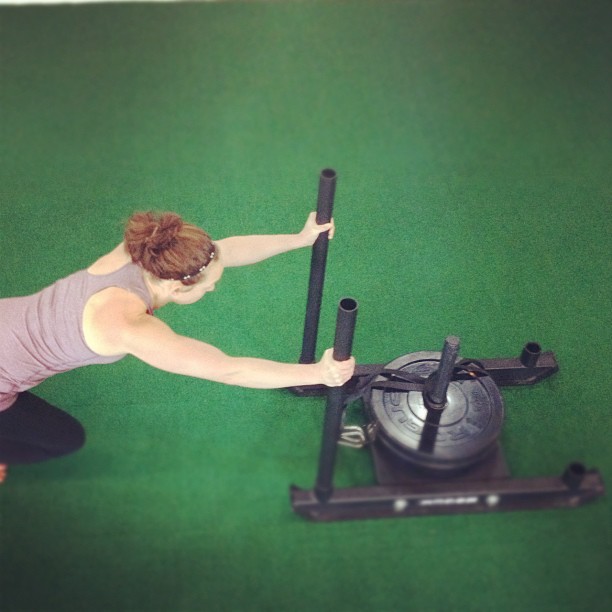 What do you do to relax? What are your favorite relaxation techniques? And what benefits do you see from practicing them?
Not everyone needs two full days with her family or a focused hour to train, this woman says 7 minutes of meditation relaxes her. I love the concept, but honestly I'm so bad at relaxing that I think it would take me more than 7 minutes to calm down and re-focus. Maybe I'll give it a go though because I think I'd be able to come up with 7 minutes a lot more often than 2 full days to spend with my family. Head on over to her post and join in the conversation by commenting on how you relax and also be sure to enter the current Life Well Lived Moments Sweepstakes for a chance to win an iPod Touch.
Disclosure: I was not compensated for anything in this post or our review of Raise on NECN. All opinions are my own.
10 Responses