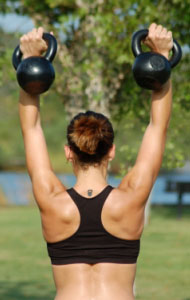 I know it's hard to think of anything else when you're so busy prepping for the holidays right now, but we finally have another date for our Level 1 Kettlebell Workshop. Grab a friend (this is great for anyone who is brand new to kettlebell training and also for those who are looking to brush up on form, etc.) and start 2011 off right by training with kettlebells!
This would even make a great Christmas gift for someone who is looking to learn something new or just looking to get in shape in general this coming year.
Skill of Strength will doing a 2.5 hour Workshop on January 9, 2011 in Woburn, MA.
Learn more and register for the kettlebell workshop on our website.