Fortunately, a bunch of my workout shirts and pants have been fitting throughout my pregnancy (so far) since they are so stretchy. 🙂 However, in the last few weeks I have had to eliminate more and more items that are just too tight, uncomfortable or creeping up and showing off the belly. I went to Target and got a couple shirts in a bigger size that were long enough to wear (at least for now!). I have been wearing those and a few other longer shirts and keeping my pants under my belly, but last week I finally bit the bullet and ordered a few of these cute maternity workout shirts from For Two Fitness.
Here's a quick picture of me after a workout on Sunday morning. Try to ignore my ghostly skin and check out the super cute shirt. Good thing spring is just around the corner…looks like someone needs a little time outside! 🙂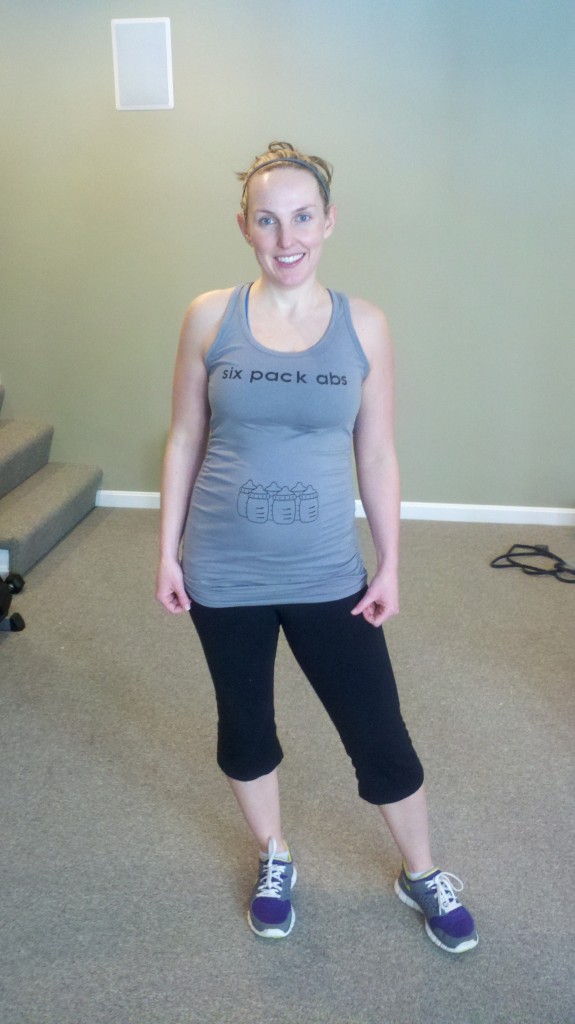 Usually I love shopping for workout clothes at the Nike outlet and the occasional splurge on Lululemon items. I'm looking forward to wearing regular workout gear again once this baby is here, but for now I am pretty pumped about my comfy "six pack abs" shirt. 🙂
Any other moms or moms-to-be have workout gear tips to share?