To state the obvious…there is a lot of controversy around exercising during pregnancy.
Should you work out? Should you run? Should you watch your heart rate? Should you refrain from starting anything new?
I was happy when this link popped up in one of my weekly pregnancy emails (a few weeks ago) about how exercise is labor preparation. For the most part I have only found books, articles and information about how women really need to take it easy during pregnancy. These sources generally encourage pregnant women to walk or lift light weights for exercise and to keep their heart rate very low.
However, here's what the article mentioned above said:
Exercise is now considered an important part of a healthy pregnancy. "People used to think rest was the norm and exercise was dangerous, but now we realize that in a pregnancy free of complications, the opposite is true," says Mona Shangold, M.D., director of the Center for Women's Health and Sports Gynecology in Philadelphia.
Yay!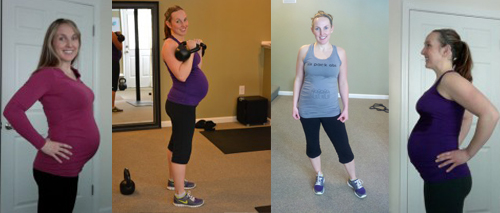 I haven't been going to the gym much since our studio is finished (see pics on facebook), but I was there a few weeks ago and a woman I used to see a lot congratulated me on my pregnancy. She asked all of the normal questions (when are you due, what are you having, etc.) and then of course went on to ask if I was keeping my heart rate low enough and told me to be careful. I assured her that I was a personal trainer and that I was taking care of myself.
I've had other people yell at me for carrying things up stairs or even picking up something they deem too heavy for a pregnant woman to carry.  I understand that it's important to get more sleep, and more rest in general, but it's also important not to give up on everything you normally do in your daily life. You can still do laundry (sorry!) and yes, you can still workout (unless your doc tells you otherwise). I have absolutely had to modify my training at different times during my pregnancy and I'm sure I will have to continue to modify it even more over the next 2 months.
Although I feel out of shape compared to how I was pre-pregnancy, I know that my body is hard at work and I am maintaining my strength and endurance the best that I can during this pregnancy. Next week I will post more details about working out during pregnancy and what exactly I had to change during each trimester to make my workouts work for me. Overall, I truly feel that working out has helped me avoid a lot of common pregnancy symptoms. I have had very few backaches. I have not experienced swelling in my hands and feet. My blood pressure has been fantastic. My weight gain is within the normal range. My energy levels have been good.
All of that said, every pregnancy is different. I highly recommend working with a personal trainer at least for a few sessions during your pregnancy to find out what you can keep doing and what to stay away from. It's always important to listen to your body, but even more so during pregnancy. If something doesn't feel right, don't do it! Use common sense and consult with an expert.
What are your thoughts on working out during pregnancy? Did you work out when you were pregnant? Do you plan to continue working out when you become pregnant?
My other pregnancy posts: