My first post on breastfeeding, The Truth About Breastfeeding was quite popular so I figured I would do a follow up post.
As I mentioned, I nursed Connor for about 5-6 weeks. During that time he was a really great baby. Then for about a week he was constantly fussy and screaming a lot. Come to find out he was just hungry! I know how he feels…sometimes when I am hungry I feel like screaming too!
Since that time I have been pumping and giving him bottles of breastmilk. I give him one formula bottle in the middle of the day and have just in the last few days started giving him a formula bottle at night as well. I think the combination we are doing is working out really well for both of us. I skip pumping during one feeding a day which gives me a break and now that I am doing 2 formula bottles I should have enough breastmilk to freeze some each day too.
I have also gotten a lot more comfortable pumping in the car. I use my nursing cover and either park somewhere away from a crowd or do it on the highway while hubby is driving. How's that for time management?
Part of me feels like I should be nursing him once or twice a day for the bonding experience, but he has just been so happy with what we are doing I don't feel like messing with a good thing. With a newborn, if something ain't broke don't try to fix it. 🙂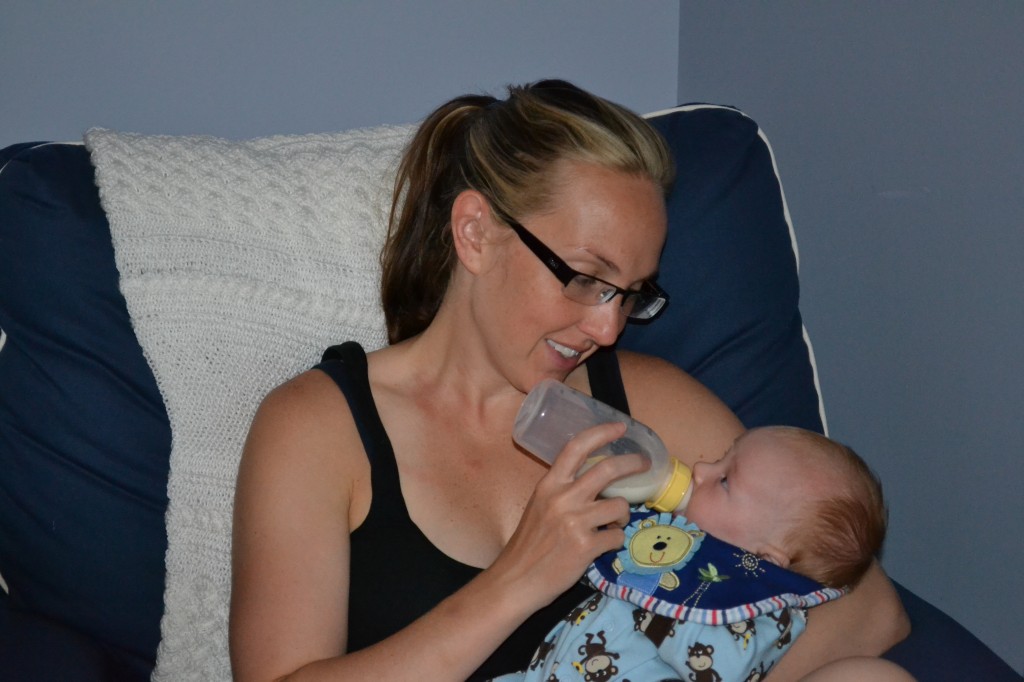 A few additional tips on feeding:
The Keurig coffee maker is the best bottle warmer in the world. No microwaving or boiling water and no stressing about whether the bottle will get too warm. It gets to the perfect temperature whether you leave it in there for 5 minutes or 15 minutes.
Beware of the hunger beast. Sometimes it hits hard and fast. Connor can go from happy and silly to hungry and fussy within a matter of minutes. It helps to have a few extra bottles lined up in the fridge and ready to go!
Pack extra formula and/or breastmilk if you are going out for a long time. We had a spillage incident in the car this past weekend and I had to cross my fingers that I could pump enough milk to satisfy my hungry kid until we were home (or stopped off and bought some formula).
Bibs are good. When Connor was nursing he didn't spit up too much, but with bottles you never know if he is going to have some serious spittage or if he will be ok. Bibs are easier to change/wash than a million outfits. (Don't get me wrong..we still go through plenty of outfits.)
Something the doctor never really told me until I had a screaming baby is that if your baby is drinking every last drop of the bottle every time he's ready to move up 1/2 or 1 ounce. My piglet ate a whopping 7 ounces at one of his feedings today. I think I'm in trouble when he's a teenager. I have a feeling we'll have quite the grocery bill.
For a few other great posts from some awesome ladies on their Breastfeeding stories/thoughts, check out the following:
What am I missing? C'mon mamas… I bet you have some more great tips!