As I mentioned before in my post about fitting in workouts with a newborn I started working out pretty soon after having a baby, but took it very slow (for me). Being consistent with working out has helped keep me positive and given me some time to focus on myself. I have briefly mentioned how I approached working out after having Connor, but promised more detail. 🙂 Over the last 2 weeks I have really gotten back into my workouts and I am so pumped.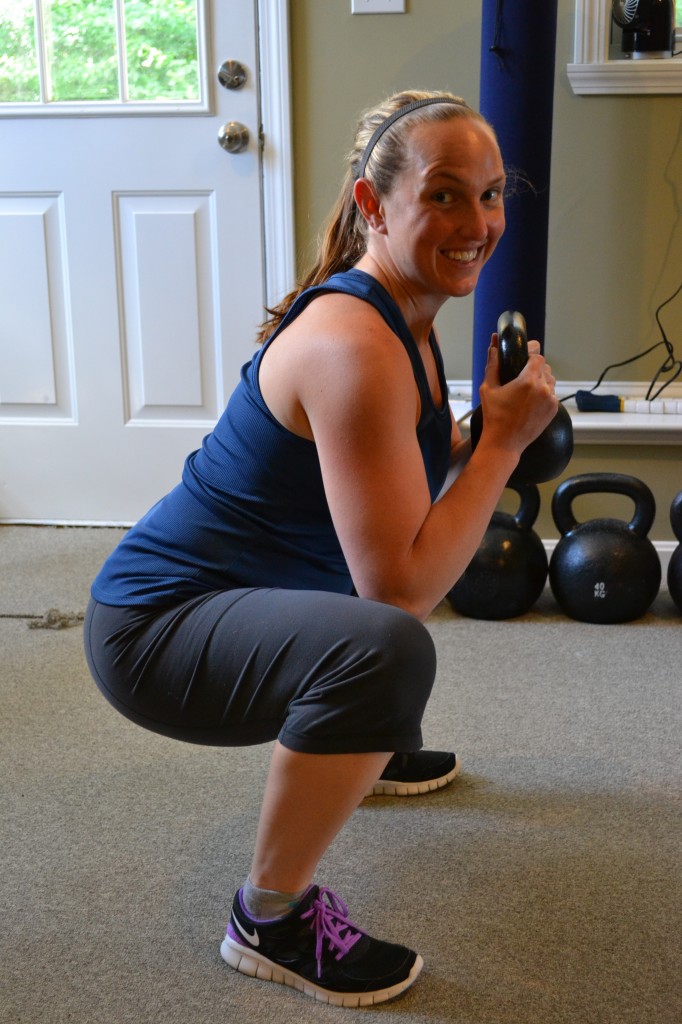 The first week after having a baby I was pretty sore and exhausted. During labor and delivery body goes through a lot and does need some serious time to heal. I focused on taking care of my new baby and eating nutritious foods. Breastfeeding was making me hungry! The second week I started taking a lot of walks with my baby and did some very light upper body workouts. I even did a few short sessions on the Arc Trainer (I'm talking 5 minutes at a time).
By the third and fourth weeks I was working out again, but keeping my workouts short and using lighter weights than before. If anything felt weird at all, I stopped immediately. I didn't do anything with a lot of jumping, or bouncing and didn't do much in the way of lunges and squats (for obvious reasons). I was still able to sweat quite a bit and started doing tons of planks and push/pull exercises (push ups, chest press, and TRX rows). I was able to do longer sessions on the Arc Trainer to get some conditioning in and even jogged lightly a few times. When I started jogging I would just run for a minute and then walk a minute. Next,  I upped that to jogging two minutes and walking to one minute.
By July 4th, which was exactly a month after my son was born, I was feeling really great and able to do some decent workouts. I went to the track with my husband and did a workout that included kettlebell swings and running around the track (not quite as hard core as our track workouts last summer though!). I also started doing a lot more lunges and squats again and even my favorite exercise, the kettlebell snatch! 🙂
I was surprised to find out just how sore I was after giving birth and how weak my core was even though I exercised throughout my entire pregnancy. I'm working hard to build my strength as I get back in shape. My husband wrote a workout program for me which I started today and I am so excited about it. Believe it or not, he has never written one for me before! I always write my own, so it's fun to switch it up and train a bit differently than I am used to. Not to mention, he's a pretty incredible strength coach and personal trainer so I'm always willing to take his advice. 🙂
It's a  a 3 day program. I will do these workouts 3 or 4 days a week (if I want to do a 4th day I just start back at workout 1) and if I feel like doing any other workouts on my 'off days' it will probably be running or other conditioning. Although after today I am pretty beat already. These workouts are no joke! 🙂
Here's one of the workouts for an example:
Turkish Get Ups (kettlebell exercise) 3×3
Heavy goblet squats (either single or double kettlebells)
Reps: 10, 8, 6, 4, 4 increase weight each set
DB chest press
Reps: 10, 8, 6, 4, 4 increase weight each set
Heavy Kettlebell Swing ladders:
10 swings with the 24k
rest for :45 or so
10 swings with the 20k
rest for :45 or so
10 swings with the 16k
rest for :45
10 swings with the 14k
…repeat 4 times
Core work of choice
My husband and I had a chat about setting goals. I told him that right now my goal is to get back in shape, but then decided that I needed another goal as well. I have a fun announcement about what that goal is coming up early next week as long as I get the 'all good' from my doctor on Monday at my 6 week appointment. How time flies!
Oh…and you can also do goblet squats in the living room holding your baby for weight. 🙂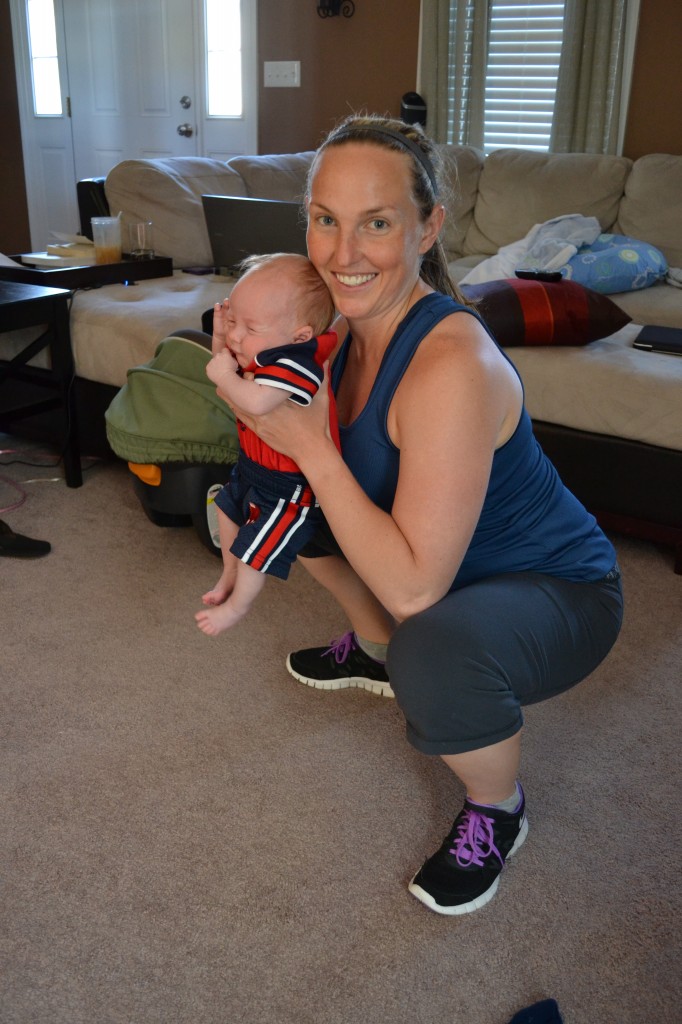 What are your workout goals? Do you follow a program or do you just wing it?