Did you miss my first baby weight update? Read about my one month progress.
On August 4th Connor turned 2 months old. I feel like I have known him way longer than that and as you can imagine, I can't even picture my life without him anymore. Now that I look back on my time with him, the entire first month is a total blur, but things got way easier and more fun during the second month. I started to figure him out a bit more and we got into a good routine. It's getting a lot easier to take him out for longer stretches now that I am more comfortable packing all of his things and changing/feeding him outside of the house.
Although we are extremely lucky because we are blessed with a really happy baby, getting used to the new job of being a mom 24 hours a day still takes a lot of patience (some days more than others!). I am also trying to be patient with myself as I attempt to get back in shape and fit in my pre-pregnancy clothes again.
I wish I could continue to show you an amazing transformation every month like I did last month, but it's just not realistic (obviously). One of the toughest things for me to deal with is the major slow down in weight loss and progress with body measurements. However, things are still moving in the right direction even without taking any drastic measures and I am really happy with my progress.
Workout Update:
I am working out quite a bit and getting strong which I love. I am also able to run again although I'm mainly focusing  on strength training and kettlebell training.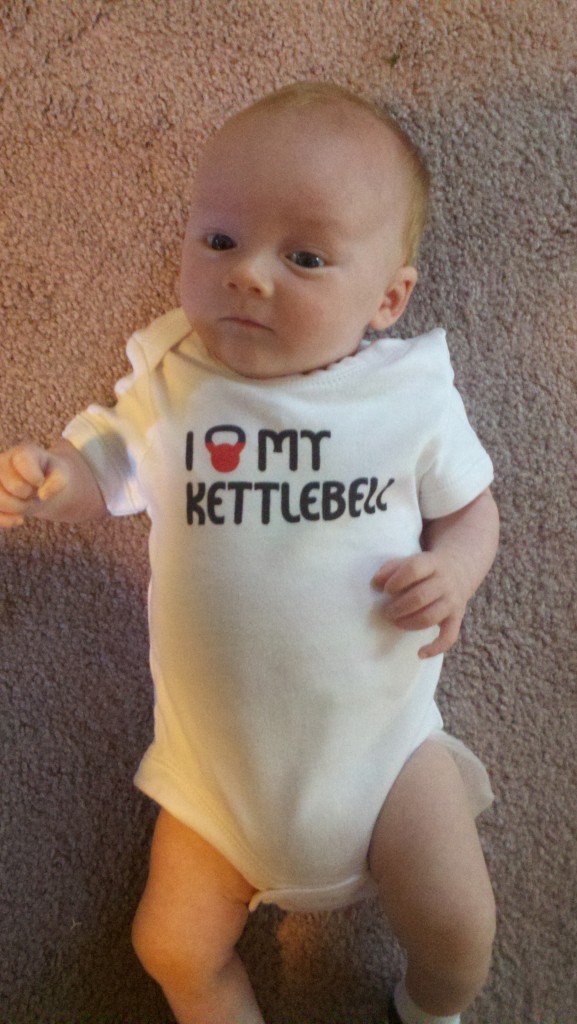 Nutrition Update:
I still have days where I am really hungry and other days where I am not nearly as hungry. I think it has a lot to do with breastfeeding (or pumping and bottle feeding in my case) and also with my tough workouts I have been doing three times a week. I've been eating really well for the most part, but still enjoy plenty of treats and love to have a glass of wine before dinner some nights. I have been eating giant salads filled with massive amounts of veggies and grilled chicken, beans, avocado, fruit, etc. I am infatuated with strawberries this summer and as usual I can't get enough of oatmeal (cold and hot) and protein shakes.
Progress Pictures, Weight and Measurements Update:
I don't think you can see a huge difference in my progress pictures this month from last month, but my arms, stomach and back are all slowly becoming more defined again and additional clothes are starting to fit each week which makes me happy. I have about 7 more pounds to lose to get back down to my prepregnancy weight. There's also quite a bit of ummm should we say reshaping that I'd like to see happen. I think my boobs have gotten even bigger than they were right after I had Connor (I didn't even think it was possible!) so I have to remember that when I am done breastfeeding I'll probably lose a few pounds just from that area alone. (I'm not sure if this is something to get excited about…? :))
So, there's the update. I feel good. I look better. I'm getting strong. I have a lot of energy. I feel motivated. I'm signed up for the Hardstyle Kettlebell Certification. Things are good.
Am I super thrilled with the numbers below? Not really, but I know things are moving in the right direction and I would rather lose 1.5 pounds in a month and keep it off than lose more weight and gain it all back again. Staying healthy, feeling great, getting strong and fitting into my clothes are what's important to me right now, a lot more so than any number on a scale right now. I always tell my clients to be consistent and make lifestyle changes rather than crash dieting or doing anything drastic. Slow and steady works. I promise and need to practice what I preach. 😉
First full day home (4 days after giving birth):
One month after giving birth:

Two months after giving birth: