I know…it's been 4 months since my little man was born and I owe you all a Banish the Baby Bulge Update on my progress. I'll get that up next week!
As you know if you read my blog, I went back to work and I am maintaining a pretty crazy day-to-day schedule right now. My son goes to daycare a few days a week and I feel really lucky that we found somewhere we like. I know some parents have to switch their kids around a few times before finding a place they are comfortable.
I really struggled this summer as we were looking at different options and found myself in tears several times just thinking about sending my baby away for the whole day with strangers. That was before I even met him so I knew it would only get harder once he was here! Eventually we found a place we liked (or at least liked better than everything else!), but during the last few weeks of my maternity leave I couldn't stop worrying about how things were going to go and if I was going to be able to handle it.
I knew CJ would be fine since he's so easy going, but we did a trial run (which I totally recommend) where I left him off for a few hours one day the week before I went back to work. That way they knew him and it wasn't a complete shock to me dropping him off on my first day back on the job. I also got my major breakdown out of the way that day so I didn't have to show up to work looking like a basket case.
A month in, everything is going well, but I will admit I still worry about my little monkey non-stop during the day and miss him like crazy!
One day last week I showed up to pick up CJ and one of the women told me that he had his first injury report. UHHH SAY WHAT?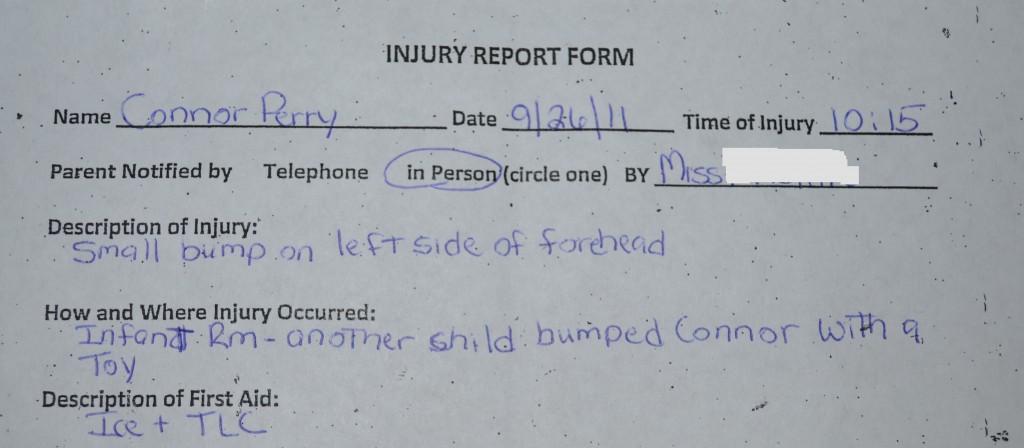 Of course when I heard he had an injury I freaked out for a minute. Once I heard more about what happened I realized that these things are going to happen when you get a few kids together in the same room, but either way, it's not easy to hear your baby got injured. Cue guilt from being a working mom instead of being home with him…
On a lighter note, usually this is the kind of thing I read about when I pick him up…well this and what times he ate and peed and pooped. 😉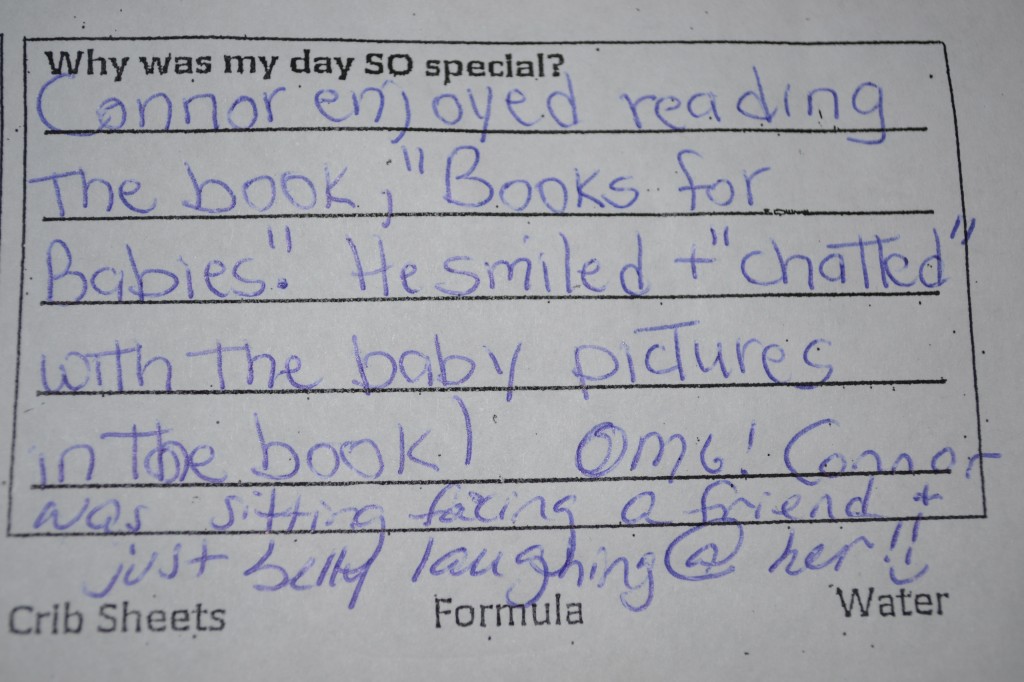 The best advice I can give to moms who are going to be leaving their baby off at daycare is to look around. There are some really different options out there. We found a few places that were so big I felt like Connor would be a number. We also looked at a few home daycares where I wasn't sure I felt like he would get enough attention. I always thought I would have preferred to send him to a home daycare, but now I am really happy we didn't go that route. Our daycare is small enough that everyone knows us, but big enough that I don't have to worry about the provider getting sick and having no care that day, etc.
Of course I still wish I could be with my little guy more, but this schedule is working for us for now and he's doing really well there. Now I just have to spend extra time snuggling him when I am not working!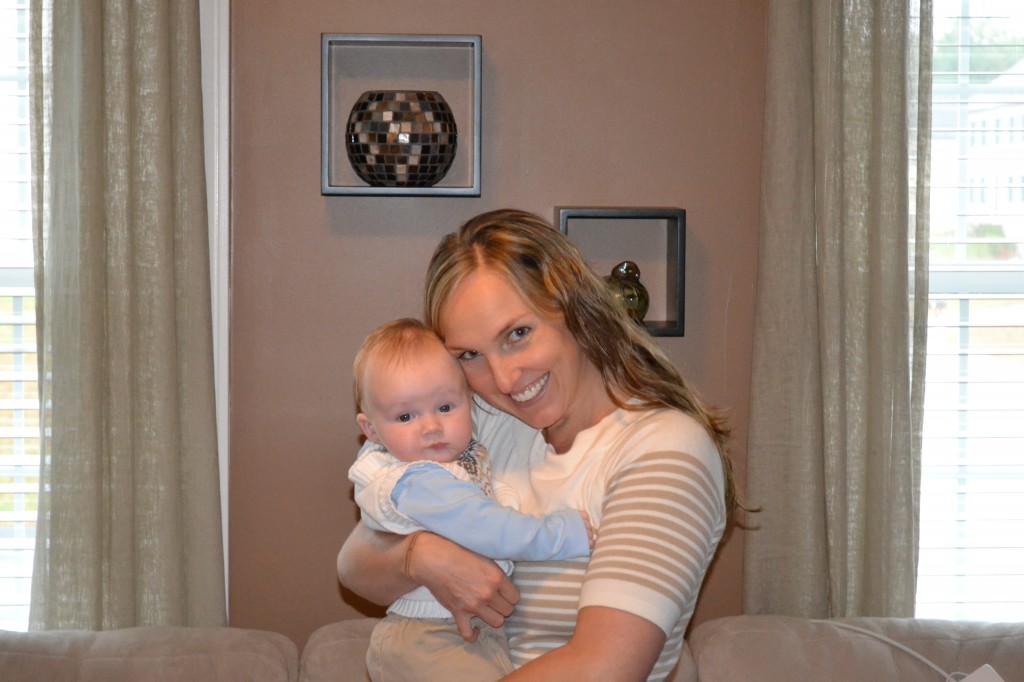 Moms out there…any advice for other moms looking at daycares or other child care options?