Did you miss my first three baby weight updates?
Hard to believe it's that time again. It's also November and it's snowed twice here already. Are we in for a long winter or what?
I've been back to work for two months now. Some days are a complete whirlwind. (Did you see my examples of a day I go to work and a day working at home with my baby?)
Daycare is going well. Some things drive me a little crazy like having to pay for the day they didn't have power so they weren't open, but most things are awesome like the friends that he's making, the care he's receiving and the art projects that he does with his teachers.
Last month I was really frustrated with where I was at with my weight loss progress. At that point I had already started cutting out pumping sessions mainly because of time constraints. I was pumping three times a day for a several weeks and decided to cut out the middle of the day session about a month ago. I figured I would pump twice a day for another month or so at least, but my body started rebelling a bit and my milk production slowed way down. I ended up stopping nursing/pumping about 2 weeks ago and although I wanted to go longer I know that this is what's best for me and my son right now. I'm happy that I was able to give him breast milk every day for almost 5 months.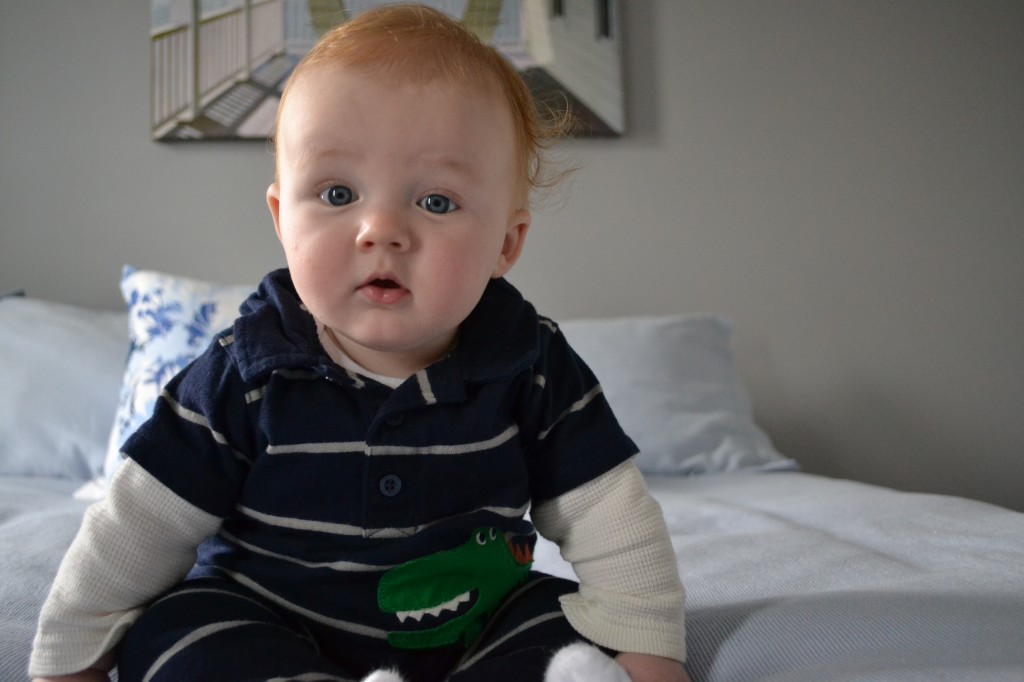 I had a feeling that my stall in post baby weight loss was due to my body holding onto a bit of extra fat so I could still continue to make milk. Since stopping 2 weeks ago I am already feeling like I have much more energy, I've lost a few pounds and I can finally button almost all of my pants again. Many of my clothes still fit differently than they did before, but I'm feeling really great about where I am at.
Workout Update:
Workouts are going well this month. I've been doing lots of squats, pullups and swings. I'm getting much better with my kettlebell snatches. I got 100 snatches in 6:35 last week! My husband is helping me tweak my form on goblet squats and double swings. I'm squatting the 20K easily now and I've squatted the 28K for 3×6 as well. I'm working on double swings with the 14K and 16K kettlebells.
I've been sticking to about five workouts each week. Three real butt-kicker workouts (Tues/Thurs/Sat) and two easier days where my main goals are to move and sweat. I've been working out with my husband on Saturday mornings a lot which has been really fun.
I'm trying to move more on the days that I'm at work since usually I am  glued to my chair. I'm taking walks most days even if it's just for 15 minutes to get some fresh air and get the blood flowing.
Nutrition Update:
When the power went out and Halloween was cancelled, we couldn't go to the grocery store or anything. I didn't eat badly, but since I was out of whack and strayed from a normal routine, my body rebelled. I had no energy for a few days and even got a bit of a head cold.
Otherwise, I've still been eating lots of oatmeal, nut butters, salads, protein shakes (with Vegan Warrior – yum!), grilled chicken, fruit and roasted vegetables. Am I perfect? Nope. We make homemade pizza once a week so I eat that and usually eat a few less than perfect meals over the weekend as well.
Progress Pictures, Weight and Measurements Update:
I lost a few pounds, mainly towards the end of this month. As mentioned, my clothes are finally starting to fit better and I'm feeling great about where I am at. My stomach is a lot leaner than it was even a few weeks ago. While my focus has been more on gaining strength and preparing for the RKC, I know if I keep my eyes on those goals I'll lose the remaining few pounds. Weight loss will be a side effect of getting stronger and sticking to my workouts as well as eating healthy foods MOST of the time.
I lost an inch around my waist and an inch around my hips. I told you slow and steady would pay off. Despite last month's frustration (I would even call it a bit of a set back), I made up for it this month without making any crazy changes in my nutrition or training plans.
I also lost an inch and a half around my chest. Not shocking for a mom who stopped breastfeeding. 😉
First full day home (4 days after giving birth):
One month after giving birth:
Two months after giving birth: