Did you check out my guest post on Workout Mommy's Blog last week? She featured me as One Fit Mommy! What about my friend Lisa's guest post here on Sistas of Strength about moms making time to cook healthy meals? If you haven't popped over to her blog (The Splattered Apron) to check out some awesome recipes yet, you should!
Now…let's flash back a few months on my blog and talk pregnancy! Even though my baby is 5 months old, I don't want to completely stop writing about pregnancy because I know a lot of my readers are pregnant and/or want to be pregnant at some point in the future.
I've talked about what I loved about being pregnant and some of the things that I missed when I was pregnant, but I thought it would be fun to look back and think about what I wish I had known before little CJ began growing in my belly. You can get all of the basics from reading books and popular baby sites, but let's talk about some of the things that might make you leap from your seat and rush to Google to make sure you are "normal'…and yes, I can almost guarantee you will do that several times during your pregnancy.
I'll do a follow up post about what I wish I had known about being a mom soon. If you have any comments or thoughts on that one let me know! 🙂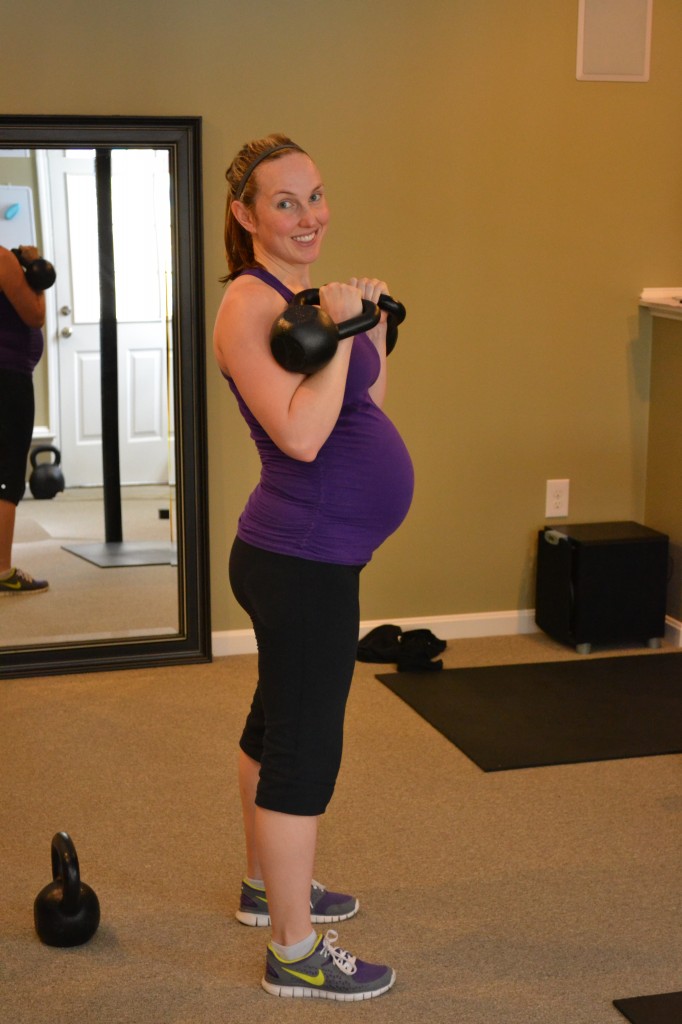 Some random things I wish I had known about being pregnant:
(These happened during MY pregnancy…remember all pregnancies are different so you may/may not experience these things.)
Your boobs will grow way before your belly. Not just a little bit either. For me it was two cup sizes before I even started showing elsewhere.
Morning sickness is not morning sickness for everyone. For me it was afternoon and evening sickness. And no puking, just extreme exhaustion.
The not drinking thing really isn't so bad.
That it's not always the physical changes (like your belly) that make working out different. During the first trimester you may just be so overtired that you can't workout like you want to even though you look exactly the same.
That maternity clothes aren't all bad. I tried to squeeze into my regular clothes for quite awhile, but I think next time I'll just give in and get comfortable early on!
That people aren't always nice to pregnant women.
That cravings and aversions are real. I'd heard this one, but always thought it sounded a little bit like a cop-out for women who wanted an excuse to eat junk. I love vegetables and wanted to eat them during my first trimester, but it was a real struggle. We're talking gagging at the sight of salads.
You might get an awful, almost metallic taste in your mouth at some point. No matter how much I brushed or chewed gym or ate, it wouldn't go away. The only thing that kind of helped was eating Sour Patch Kids. Seriously…I remember resorting to getting them on the way to work one day.
Your joints may be really loose. So loose that even though I was very aware of this problem, I dislocated a shoulder while making my bed.
You might be itchy. Very itchy.
I posed this question to the Twitter crew and here are some of the response I received:
A warning about the increased risk of urinary infections would have saved me some anxiety!
Wish I'd known your boobs make you so uncomfortable you'll be kept up at night! Long before a big bump takes over.
That u will end up so confused by all the advice/books/Internet, your pregnancy will be 100% different than anyone else's!
That everyone's pregnancy experience is so different! My boobs didn't grow, bladder didn't 'shrink', & baby barely moves.
Morning sickness doesn't magically end at 12 weeks, I was sick for 5 months. I honestly thought it would never end. In addition to working in a school, where hygiene isn't always number one for 8th graders. I was miserable.
Many people said to me "you aren't doing that?" or "your doctor isn't doing that?" and it made me freak out. I found out later that these people were getting ultrasounds on their own (monthly and not doctor ordered) and were supposedly being told the exact size of their baby. My doctor was no nonsense and felt that there was no point in doing more than 2 ultrasounds unless something was wrong, etc… my kind of doctor.
I knew my exercise level would change, but I never knew I would just be too exhausted, especially with commuting 1.5 hrs per day for work. Towards the end I was on bed rest.
Seems like the theme here is that every experience is different, but I think it's so great to read about other's experiences so you get some ideas of what may or may not happen to you during these nine (TEN!) exciting months.
What do you wish you knew about being pregnant before your bundle of joy took up residence in your belly?