Ummmm yes …that is one half of a year. My baby is halfway to becoming a 1 year old. Yikes.
Sorry for the delay on this post, but life has been a little (a lot) busy. I'm anxious about some major changes going on over here, but reminding myself that we are so blessed and we are where we are supposed to be. 🙂 We had an AWESOME kettlebell workshop this weekend. We had 7 attendees of all different ages and abilities and I think each and every one of them were able to learn something.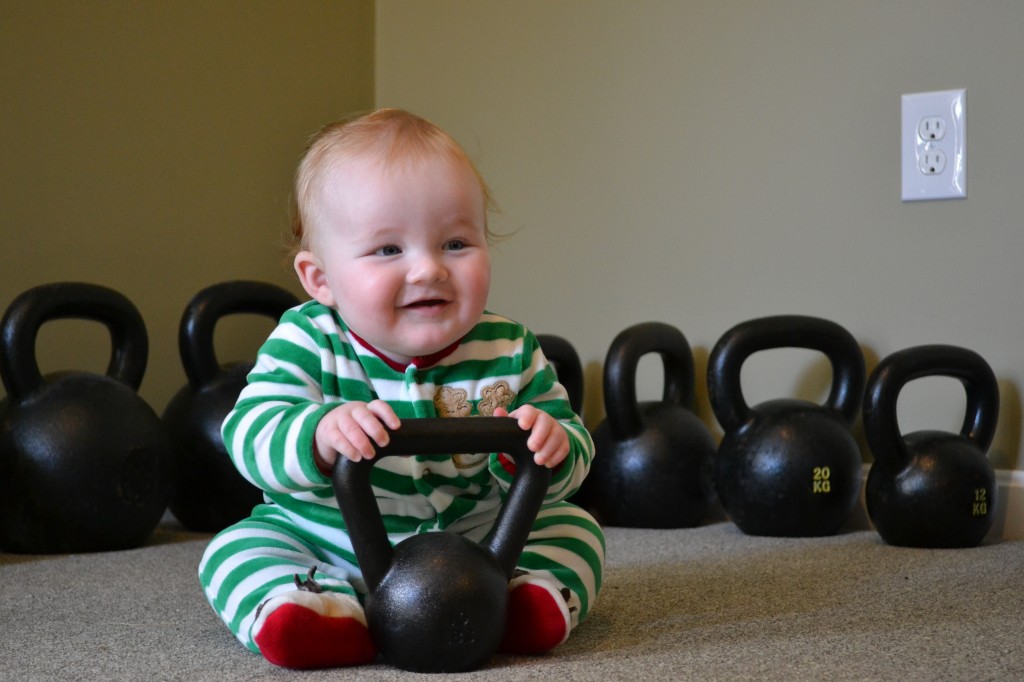 Did you miss my other baby weight updates?
Connor is doing really well. He's sitting up on his own now and started eating cereal and veggies this month. (Not french fries!) He's definitely a ladies man at daycare and I think he secretly likes the fact that most of the other babies right now are little girls.
I'm feeling great about my weight loss progress. The one thing that still bothers me is that my stomach still feels bloated at the end of the day. It feels normal in the beginning of the day, but seems to expand much more easily than it used to.
Workout Update:
Workouts are going well. Two weeks ago I had a killer day with chin ups. I did a set of 4, five sets of 3 and then felt so good I decided to try my first weighted chinup ever (with 10 pounds)! Last week I decided to go for it again. I did a set of 4 chinups, 8 single weighted chinups with 10 pounds and finished up with 4 additional chinups (sets of 1).
I also did my first Turkish Get Up with a 16K kettlebell. My double swings are looking a bit better and my one arm swings feel really good. I've been working towards my snatch test (100 snatches with the 16K kettlebell) and I'm getting so much closer to reaching that 5 minute mark.
I'm starting some new workouts this week. My main goal is to keep getting stronger for the RKC.
Nutrition Update:
My husband and I decided that we both needed a little kick in the butt to start eating better. I generally eat very well, but I really want to dial it in a bit more and get where I want to be.
We did a 24 hour fast to start things off. We ate an early dinner on Saturday and then ate again on Sunday evening. That was a few weeks ago and since
then we have been following the Precision Nutrition guidelines more closely than normal. Basically, I'm eating every 2-3 hours, having protein at each meal/snack, and eating starchy carbs only during the 3 hours or so after a workout. That said, I haven't been perfect and I don't tell my clients they need to be either. I'm shooting for about 90% compliance.
Progress Pictures, Weight and Measurements Update:
I lost another few pounds this month. I'm still happy that I took the slow and steady route to losing weight because I haven't had to go on any crazy diets (which would in turn make me go crazy) and I know I'm much more likely to keep this weight off. At least until I am pregnant again…not anytime soon for those of you who are curious.
My pants are all finally buttoning so that makes me really happy. The one thing that is still driving me nuts is that my belly feels bloated in the afternoon and evenings. I'm working on this by dialing in my nutrition (see above) and working on my core strength.
I don't think the pictures look much different this month, but you can see a lot more definition in my shoulders if you look closely. I do think I've made awesome progress this month (especially during the last 2 weeks), but I have to say the pictures aren't really showing much change. It might have something to do with the big meal and several glasses of wine I had the night before I took them. Whoops. Just keepin it real friends. Remember that 90% compliance thing I mentioned above? 😉
First full day home (4 days after giving birth):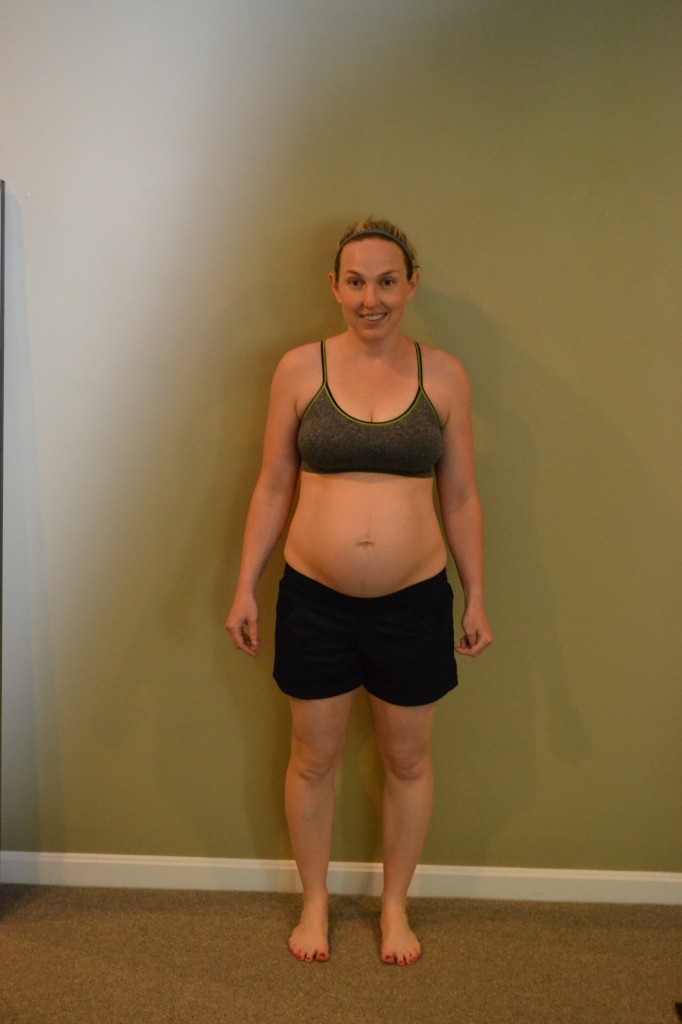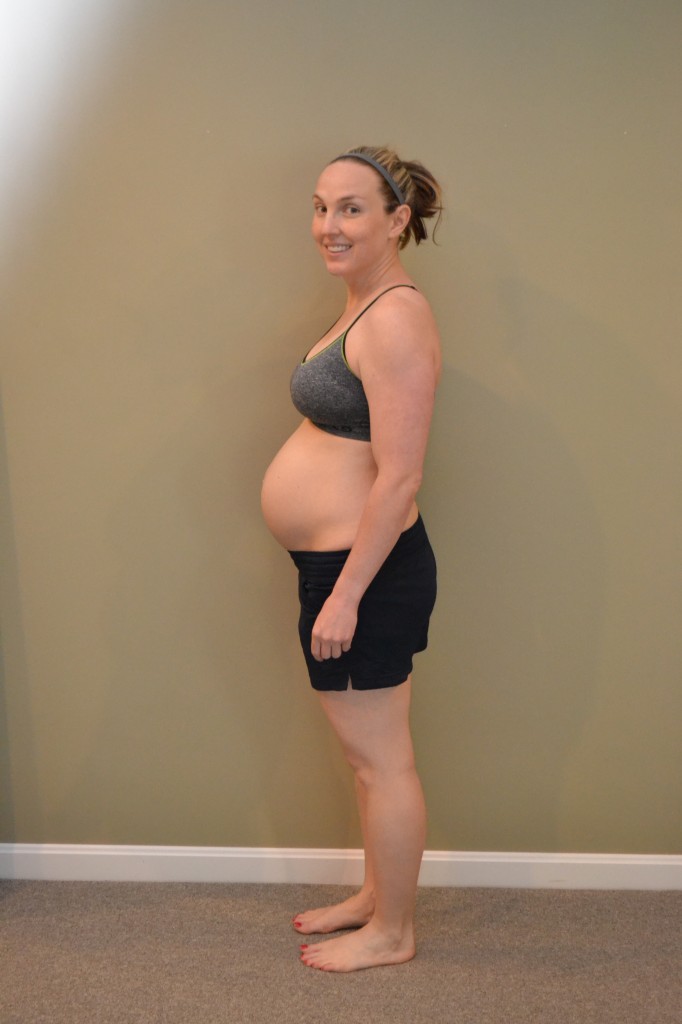 One month after giving birth: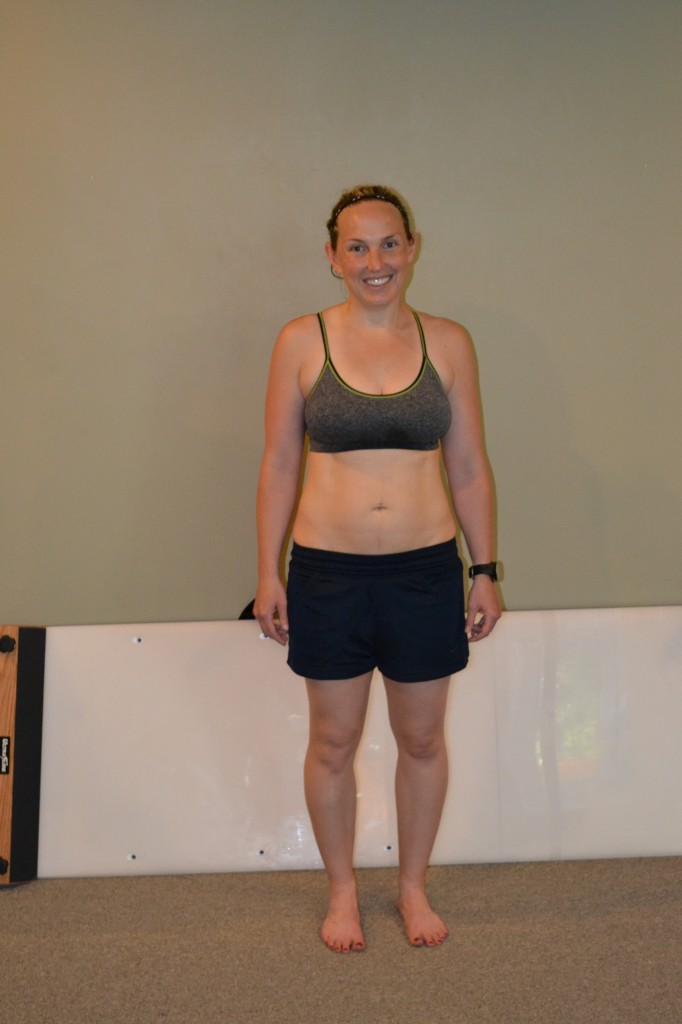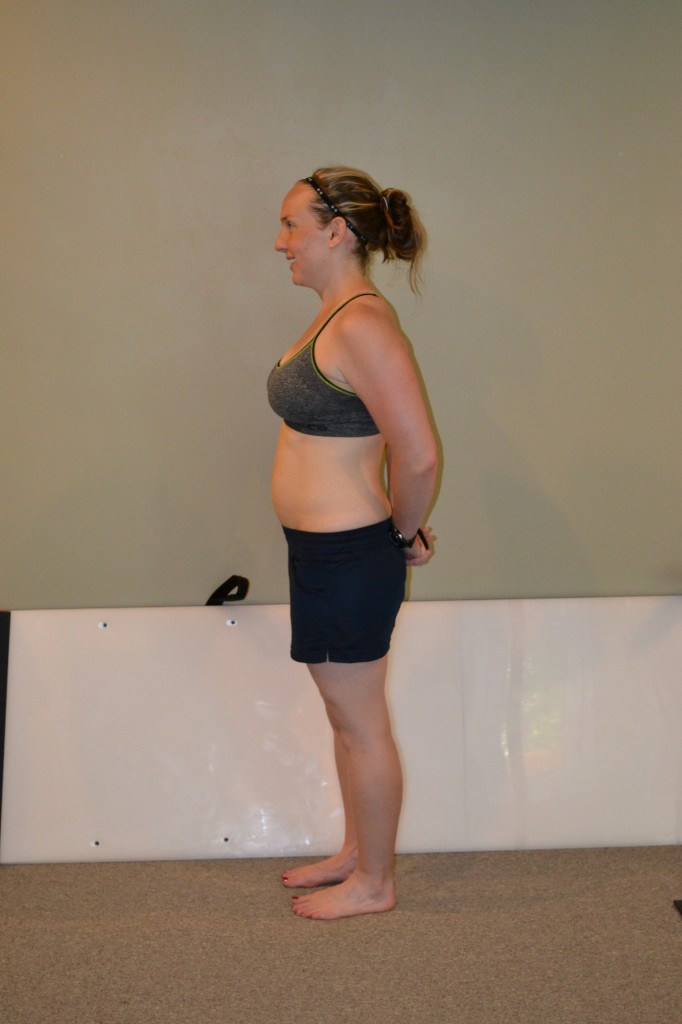 Two months after giving birth: