Thanks to everyone for entering the sparkly soul headband giveaway! 🙂 Hopefully I will be having a lot more giveaways in the near future.
And the winner is….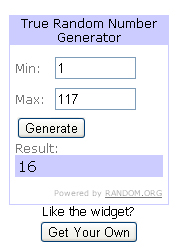 Lindsay from Running with Tongs!
Now, if you didn't win, but still want to score some of these great headbands, you can purchase them for 15% off in the month of February. Just use the discount code FITFLUENTIAL when you check out.
Lisa tagged me in her 11 things post over the past weekend and I am going to play along! Next week, I promise you some real fitness talk again. I feel like I have been a little off topic, but such is life, right? 🙂
Here's the Rules!
Post these rules
You must post 11 random things about yourself.
Answer the questions set for you in their post.
Create 11 new questions for the people you tag to answer.
Tag them on Twitter, Facebook or their blog.
11 Random Things About Me:
I always set my alarm clock to end in a 7 or 3. (For example 5:57 as opposed to 6:00am. ;-))
When I was growing up, we had a bunny named Marshmallow. He got so big we couldn't take him out and had to clean the cage with him in it.
I eat some type of nut butter every single day.
I used to be obsessed with Britney Spears and saw her perform in Disney World when I was a senior in high school on our school trip.
Source
I think red wine tastes so much better when it's in a really big wine glass.
I used to hate dark chocolate, but it's really growing on me.
I had a foster sister for a little while in high school.
I love chinups and pullups. Love love love.

My husband and I own a business, Skill of Strength, and we are opening a new gym in April.
I love having a video monitor for my baby. It keeps me sane.
Even better, I love the rare opportunities when I get to nap with my son.

Answers to 11 Questions Lisa asked:
What's your favorite meal?
I love salad w/ a million different types of veggies, cheddar cheese and grilled chicken. Gourmet pizza rocks my world too.
Dogs or cats?
Had a cat growing up and loved her. Now, I like dogs and cats as long as they are not mine. I have a hard enough time keeping my house clean right now without pets.
If given one million dollars, how would you spend it?
I would finish getting our gym up and running. I would save a good chunk of it. I would do a little work on my house. I would give some to my parents. And I would find a local charity that we could work with on a continual basis.
Do you prefer biking or walking as a mode of transportation?
Walking if it's in a city. Biking if it's in the woods. 🙂
What's the fitness goal you've accomplished that makes you most proud?
Becoming a personal trainer (and HKC) after years of wanting to be one.
What is the best dish that you make?
Chicken Picatta
Which kitchen utensil do you use most often?
Does a knife count? Or a blender? I use both of those daily!
Brussels sprouts: friend or foe?
I just tried them for the first time and thought they were pretty good!
Would you wake a sleeping baby?
Nope.
Can you recite the alphabet backwards?
Not unless I had a LONG time to think about it, which I don't.
What's your first memory?
Woah. Tough question. I honestly have no idea! I might institute a new rule…you can skip one question. 😉
My 11 Questions for Friends
What is your favorite TV show?
Skiiing: downhill, cross country or water (or all/none!)
Favorite season: winter, spring, summer or fall?
Peanut butter or almond butter?
Did you play sports in high school?
Who's your favorite singer/band?
Country music: yay or nay?
What's your favorite drink at Starbucks?
What is your current fitness goal?
What's your favorite type of exercise?
What's your dream job?
Blog Friends – You're it!
Jess, Jessica, Jolene, Kelly, Maria, Heather, Susan, Brittany, Michelle, Caitlin and Robyn– you're it! 🙂