Today marks one week until I leave for the RKC. The actual training starts on Friday, but I'll be arriving in St. Paul on Thursday.
I haven't even attended yet, but training for the RKC has already taught me so much about myself and about training in general. I will expand on that in the next week or two, but for now here is my training update.
I'm still doing this workout and this workout and I'm still rocking the weekend-heavy training schedule through this weekend. Next week I will take it somewhat easy to prepare my body for three days of training.
I am always going to be a work in progress, but here's how I'm feeling right now about each of the skills required to pass:
Swing – Good. I have been working on my positioning at the top of the swing and I think I'm finally getting there. Abs and glutes must visibly contract!
Turkish Get Up – Decent. I never thought I could do a TGU with a 16K kettlebell (probably something to do with that mental block I had of getting that 16K kettlebell overhead). It still feels heavy somedays, but it's certainly doable for multiple reps on each side.
Clean – Decent. A little choppy once in awhile, but not too much wrist banging going on there.
Press – Ok. I'm still feeling a little discouraged with my pressing, but it's definitely getting a lot better! I can consistently press the 16K on my right side for multiple reps and can press it for a few reps on the left as well (at least on a good day).
Front Squat – Good. My squatting has come a long way in the last ten months and I don't hate squats anymore. That's progress for someone who has always hated squats.
Snatch – Better! I have mentioned in the past that my snatch technique needed a little work. My lockout position was incorrect and according to my husband I was flailing trying to get that kettlebell overhead. 😉 I finally worked with him last week on this and I am feeling much better about it. I've done the snatch test with a 16K  in under 5 minutes a number of times over the last few weeks so I know I can do it.
A few people have asked about my weight (if I weigh less than 123.5lbs I will be tested using a 12K kettlebell instead of a 16K kettlebell). On my scale in the morning I always weigh less than that, but I'm not sure I 100% trust it. One day I weighed 119 in the basement and carried the scale upstairs and weighed 125. Big difference! I am going into this as if I will be using the 16K kettlebell and it will just be a bonus if I weigh less and can test with the 12K. Seems like the only reasonable way to go about it.
If you follow me on twitter, you might have seen my #FitFluential #PROOF tweet the other morning after doing 160 one-hand swings with the 24K the other morning. To add to that, check out this proof that a few months of very consistent training and practice can make all the difference in the world. (Oh…and that a baby can grow an awful lot in just 9 months!)
A goblet squat w Connor 9 months ago (July, 2011) when I was just getting back into exercising after having a baby.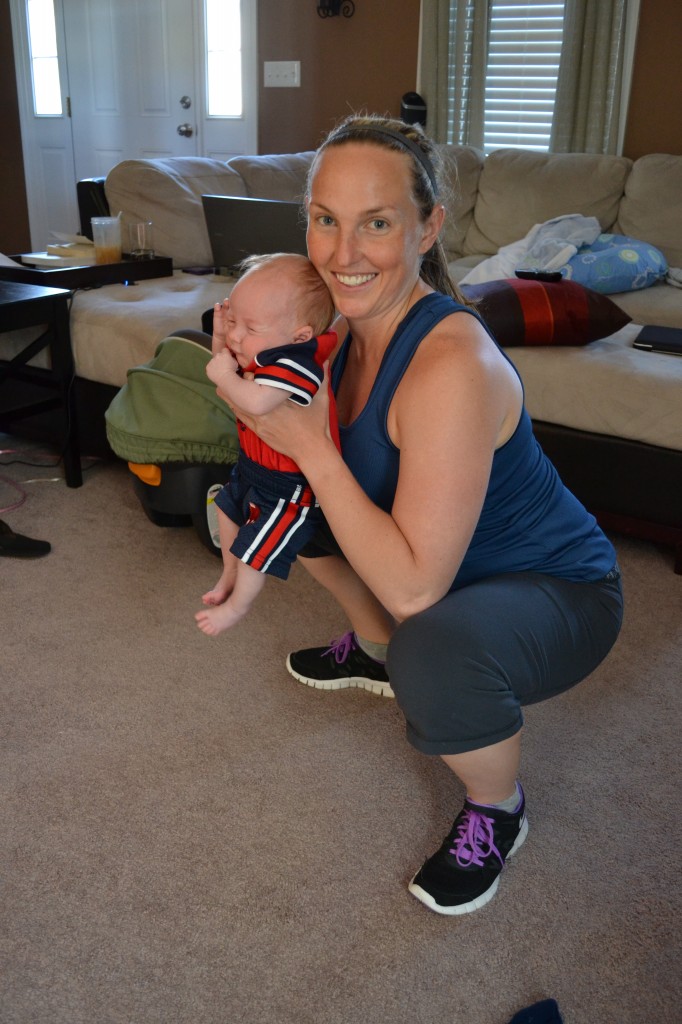 And now, stronger and leaner…after Tuesday's swing workout. (excuse the blurry pic)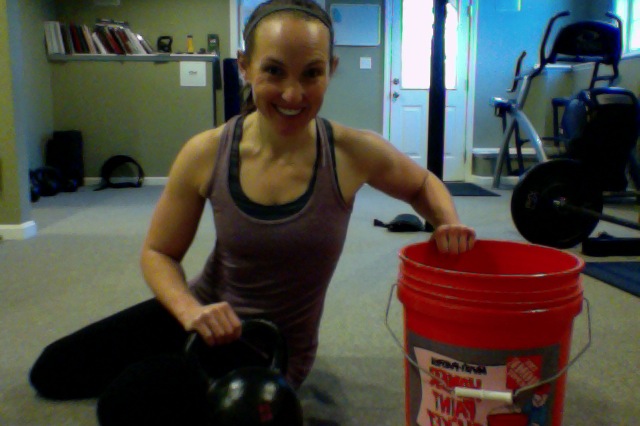 Anyone training for anything cool right now?