Yesterday was yet another Workout Wednesday at Skill of Strength. On Wednesday mornings we do try to do team workouts. Not only is it good for us physically, but it's great for team-building. If only more companies held team workouts, it might be a lot easier to avoid that whole office junk-food issue.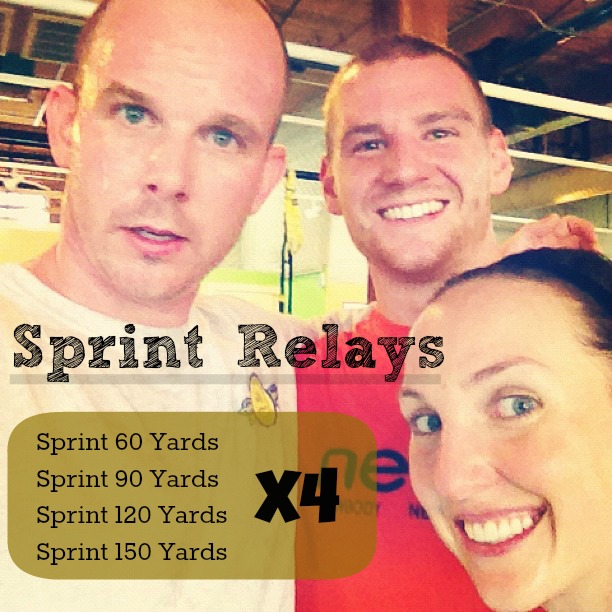 A few people have asked me how sprint relays work since I have been posting the pictures each week on Instagram. We set up cones that are about 15 yards apart. I sprint down and back twice (60 yards), then Steve sprints down and back twice, then Mike sprints down and back twice. Then we each take a turn going down and back three times (90 yards), four times (120 yards) and five times (150 yards). We go through the whole thing four times, cheering each other on and trying to beat our time from the previous week. We each end up sprinting 1,680 yards and it takes us about 20 minutes.
We'll probably do this one more time and then move on to a new challenge, but I wanted to share this as a great way to burn some serious calories together as a team…no equipment needed!
Now, you're probably wondering what on earth sprints could possibly have to do with makeup?
I teach a class right before I train on Wednesdays and I like to look at least somewhat presentable when I'm at work. I use a little makeup to cover my dark circles (new mamas, can you relate?) and any blemishes I have (why do I still breakout like a teenager sometimes even though I'm almost 32?).
Since I don't want to wash my face again after teaching just one class I started working out with my makeup on.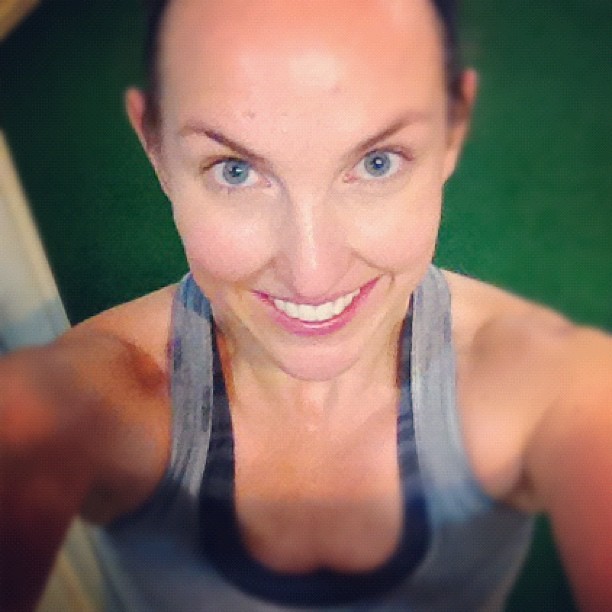 I used to think girls who wore makeup to the gym were ridiculous. I mean, geez, I was there to train, not find a date! I'm not sure if I got too busy to want to wash my face a million times a day or if I became more vain, but either way I think most of you would probably agree that you feel better when you look good. Why should it be any different when you're working out?
You've probably heard me talk about things like Sparkly Soul Headbands and my favorite Lululemon pants. And we all know that new sneakers or a cute tank top can motivate you to get back to the gym, right? Now I want to share my favorite workout makeup with you!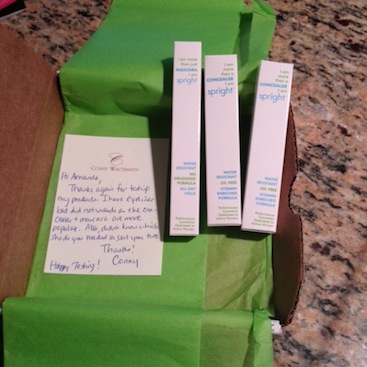 Spright Cosmetics is a new company focused on cosmetics for active women. They offer concealer, mascara and eye liner.
I started out just wearing the concealer and mascara when I had to work before training, but I loved it so much that I now wear the concealer all the time. It stays on really well and does a great job of hiding skin imperfections like dark circles and blemishes so that you can now feel your best all the time, even when working out! The mascara doesn't clump at all and I haven't ended up
with raccoon eyes during my workouts, even after sweaty sprint relays with the SOS team!
You guys, this stuff is seriously awesome and the good news is that three of you lucky readers are going to win a package that will include a concealer, mascara and eyeliner.
Here's how to enter to win! (You can do more than one of these to enter multiple times.)
Head over to www.sprightcosmetics.com and tell me what concealer color you'd want if you win
Follow Spright Cosmetics on Twitter @spright (& tell me you did in the comments)
Follow me on Twitter @amandamaryperry (& tell me you did in the comments)
Tweet about this giveaway with one of the following Tweets (& tell me you did in the comments):

I wanna win a @spright makeup for fit females from @amandamaryperry! You can too: http://ht.ly/fFgs8 #makeup #fashion #fitness
I entered to win a @spright cosmetics from @amandamaryperry so I can look my best when being active! http://ht.ly/fFgs8 #fitfluential
You can enter until Tuesday, December 4 at midnight! Good luck!
More good news!
My friends over at Spright Cosmetics are offering all Sistas of Strength readers 25% off on your order until Christmas! This would be an awesome gift for any of the fit females in your life…or a great gift to get yourself. 😉 Just enter the code 25off at checkout.
Please note: Spright Cosmetics sent me a concealer and mascara for review. I received a small stipend for writing this post, but all opinions are my own.