This week I'm going to share a few things from the week (two things from you and two things from me!). You're going to want to keep reading though and make sure you check out that fifth item in the Friday Five today. It's an awesome giveaway!
Two Things From You:
1. Love this lady. Always love her posts. Check out her latest post on cheat meals.
2. I have been loving my friend Jo's posts lately. She's really got me thinking about how I need to focus more on spending quality time with the ones I love, away from my phone and other technology. Easier said than done, but oh so important.
Two Things From Me: 
3. Did you miss my applesauce protein muffins in a mug from earlier this week? These are seriously my favorite obsession right now. I can't get enough.
4. I worked out with my coworkers again on Wednesday. We have so much fun. I had to show them that I can hang with them even though I'm a girl. Here's a quick video from my Facebook page of one of my sets of chin-ups.
And a Giveaway!!
5. Last, but certainly not least, I have an awesome giveaway for you all today! My friends over at Bulu Box sent me a sample to check out a few months ago and I have been meaning to tell you more about it.
Here's a sample of what I got in my Bulu Box!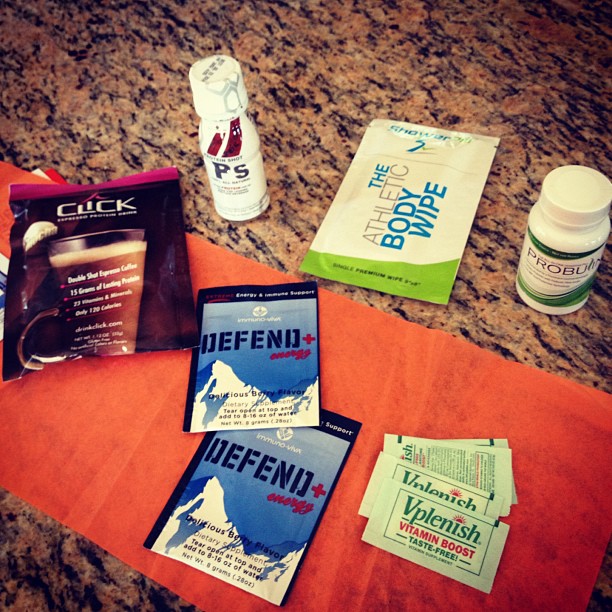 Basically you can sign up for monthly or yearly subscriptions and they send you a handful (4-5) samples of vitamins and supplements. If you like anything you get, you can then decide to order the full product(s). Pretty cool, right? If you're anything like me, you often shy away from trying new things because you don't want to spend money on something you may not even like or that may not agree with your body.
Check it out and learn more on their great site!
Here's how to enter to win! (You can do more than one of these to enter multiple times.)
Head over to bulubox.com and comment about why you want to test it out
Follow me on Twitter: @amandamaryperry (& tell me you did in the comments)
Follow my blog (& tell me you did in the comments)
Tweet about this giveaway with one of the following Tweets (& tell me you did in the comments):

I wanna win a @bulubox from @amandamaryperry! Enter to win: https://www.sistasofstrength.com/?p=7846 #FitFluential
I entered to win a @bulubox from @amandamaryperry and you can too! https://www.sistasofstrength.com/?p=7846 #Nutrition
You can enter until Tuesday November 6th at noon and I'll announce the winner on Wednesday, November 7th. Good luck!
Please note: Bulubox sent me a sample box for review. I was not compensated for writing this post and all opinions are my own.