As you probably know, I don't post recipes very often. There's a few reasons for that.
1. I eat a lot of the same things over and over again. If something works, why change it? (Until I get sick of it…)
2. I am not good at taking pictures of food (and a lot of the time my food is pretty ugly).
That said, if I am taking the time to post a recipe on the blog, I must think it's a pretty darn good recipe! These gluten free oatmeal muffins were a hit with my family over Christmas so I decided to make them again the other day.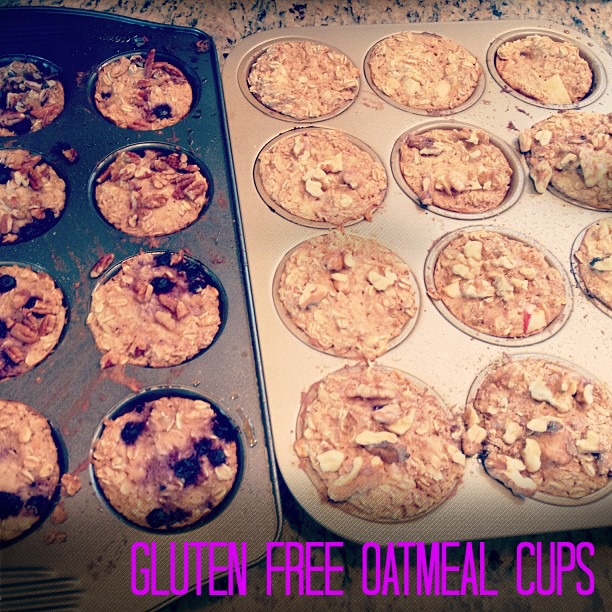 Theses make great snacks post workout or for a breakfast-on-the-go. There's very little protein so pair it with some eggs or some protein powder mixed with almond milk/water and you've got yourself a great post-workout snack or breakfast. My husband loves taking these to work and eating them between clients to keep his energy levels up in the morning.
I adapted my recipe from this recipe I found on Pinterest.
Gluten Free Oatmeal Cups
Ingredients:
1 banana
2 cups applesauce (unsweetened)
2 eggs
2 3/4 cup almond milk
1 tablespoon cinnamon
1/4 cup chia seeds (or a little less)
3 teaspoons baking powder (make sure gluten free if necessary)
1 teaspoon salt
5 cups oats (gluten free if you want these to be gluten free)
Directions:
Spray two muffin pans with olive oil or coconut oil. Preheat the oven to 350 degrees.
Mash the banana and mix in the applesauce, eggs and almond milk. Mix in the cinnamon, chia seeds, baking powder and salt. Add the oats and mix until everything is combined.
Optional Add-Ins:
You can add fruit (I've done apples, fresh strawberries and frozen blueberries) right into the batter. If you want to mix it in before you pour into the muffin cups that is probably the easiest. If you want to make a variety of flavors you can pour the batter into the muffin cups and then push a few pieces of fruit into each cup. Messy? Yes. Awesome? Yes.
You can also place toppings right on the muffins before baking. Things like raisins, nuts and coconut make great toppings.
Bake 350 degrees for 30 minutes.
Again, these make a great on-the-go breakfast or part of a post-workout snack. I think these would also be great during pregnancy (no, I am not pregnant) when you're turned off by veggies and craving something carb-y.
What's your favorite on-the-go breakfast?