This post is brought to you by Fitfluential LLC on behalf of Under Armour. I received an Armour39™ Heart Rate Monitor and compensation for this post.
Happy 2014! I hope you all had an awesome Christmas and New Years! We are back from a few days in New Hampshire (and then a few snow days at home to really mess with the schedule!) and it finally feels like I'm gonna get back into a routine this week.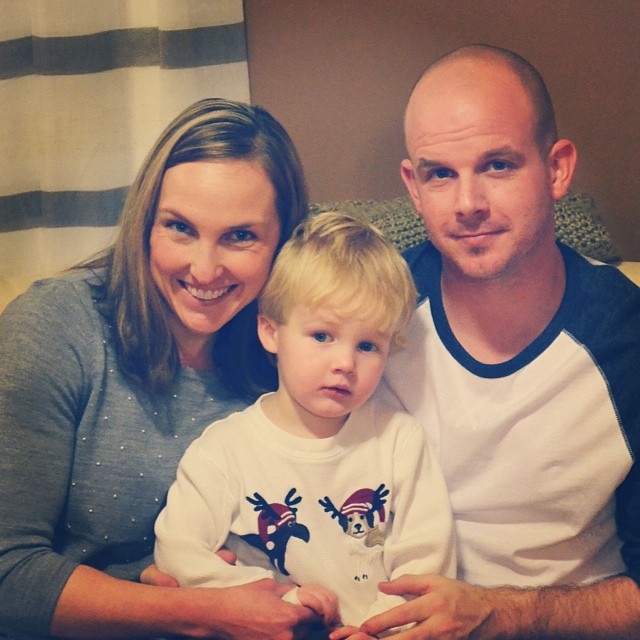 I started things off right with a quick sweat session at home yesterday. My husband was working so I was home with Connor, but I decided that if I got right to business I could get a good sweat going in just 30 minutes while he watched a TV show and played. I was right!
See, working out with a toddler at home is not always impossible!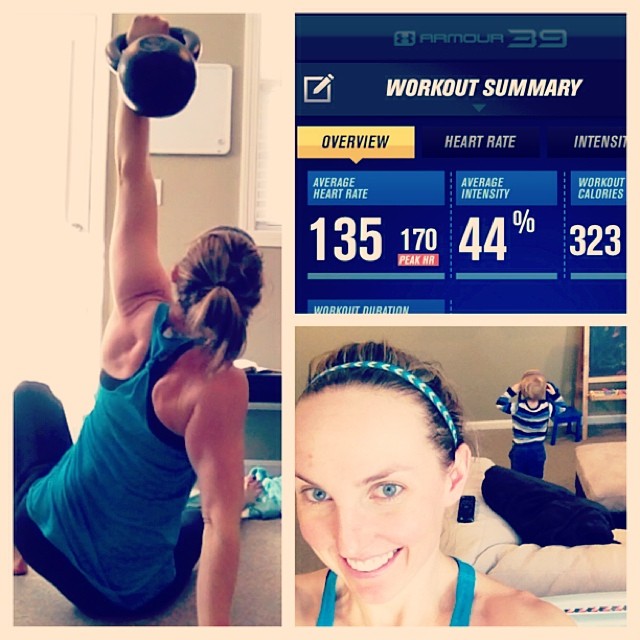 Although I've talked before about how I am not big on making New Years Resolutions, I am working on being better about goal setting in general (how are you going to make progress without goals, right?) Now that my husband and I are entirely dependent on the success of our gym, it's a lot more important to make sure we are always moving in the right direction.
We spent the car ride home from our winter vacation last week discussing our business, personal and family goals for the year. Although I'm not going to share my goals here, it did feel good to write everything down and it will be nice to hold each other accountable in 2014!
Last year, I wrote about how I wanted to learn a lot in 2013. Although it wasn't exactly how I envisioned it, (I did not actually sit down and read as much as I would have liked) I did end up learning A LOT over the last year. Let's just say owning a business, working with your spouse and raising a two year old are three ways to ensure you learn something new every single day.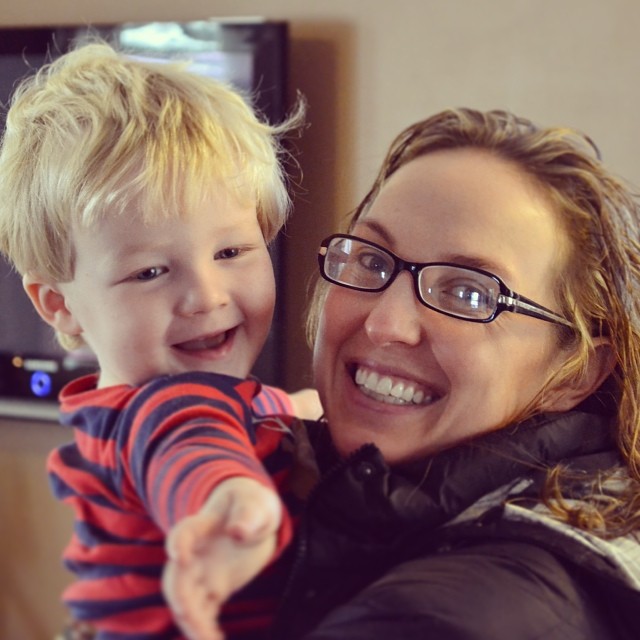 I also continue to learn a lot about training, especially during this last year. Recently, I started trying out some conditioning similar to what my husband uses when training his MMA Fighters. A lot of this training is based on all-out work (working at maximum intensity) and then recovering until your heart rate decreases to a certain level before starting the next round. (I have been recovering until my heart rate gets to 115 beats per minute before going all-out again.)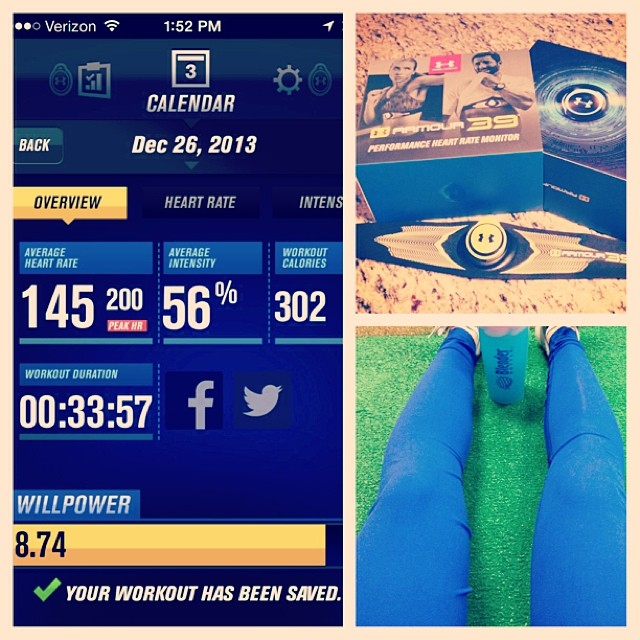 My Under Armour Armour39™ heart rate monitor has been awesome for this type of high intensity training. I can put the chest strap on, place my phone on the ground near where I am training (or put it on the sled I'm pushing) and I can see my heart rate real-time. I'm really looking forward to incorporating more heart rate based training, both in my own training and with clients, so I'm excited to finally have a heart rate monitor that works well for my needs!
What is The Armour39™?
The Armour39™ module stores your biometric info, including heart rate, calories burned, real-time intensity, and WILLpower™, then transmits it automatically in real time to the Armour39™ mobile app or watch. Please note, The Armour39 is compatible only with iPhone® 4S, iPhone® 5, iPod Touch® (5th generation), iPad® 4, and iPad® Mini.
My Review of The Armour39…
PROS
I love that I don't have to wear anything on my wrist. Having to wear a watch has stopped me from using heart rate monitors consistently in the past because we all know I love kettlebell snatches. You do not want to have a watch on when you're doing kettlebell snatches. I'll let you figure out why. 🙂
It's really cool to see your heart rate real-time during your workout.
The chest strap stays put, stays dry and doesn't get in the way of your workout.
You can download the application to your iPhone (or iPad or iPod touch) for free.
The monitor stores your workout even when you are out of range. For me, this is awesome because I can leave my phone on a bench or table at the gym and I don't have to wear an arm band for my phone (which can be annoying). I can walk away and the monitor stores the info until I'm close to my phone again. I think this would be really neat if you wanted to go for a run without your phone!
The application seems to run just fine while I have other applications open, including Pandora and a timer application.
I love that the application shows your heart rate for the whole workout so you can check it out later if you're wondering how high it got while you were doing something specific.
CONS
BOTTOM LINE
I love my Under Armour Armour39™ so much that I actually purchased one for my husband for Christmas. It seems like the readings are pretty accurate and we absolutely love that it's simply just a strap versus all of the other options where you have to wear something on your wrist.
I'm sure you'll be hearing more from me about The Armour39™ as I continue to use it for conditioning. If you're looking for a simple and effective heart rate monitor, I definitely recommend checking this out!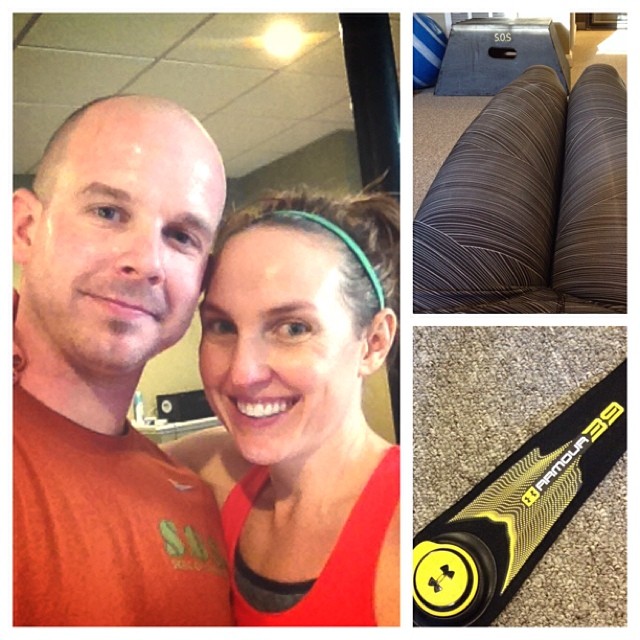 Do you train with a heart rate monitor?
What about New Years Resolutions? Do you have any?