Disclosure: I received a gift card to minted. from the company. I was not otherwise compensated for this post and all opinions are my own.
As promised last week….I am writing a completely un-fitness related post just for fun!
When Connor was first born I used to write a lot more about my life as a mom. I shared things like tips for working out with a toddler, further back, some must haves for one-year-olds, and even further back than that, banishing the baby bulge.
Lately, I've still been posting a lot of pictures of my mom life on Instagram, but on the blog I've stuck to talking about fitness and just being good to yourself, your mind and your body. Today though, it's time to talk toddlers…specifically, transitioning toddlers to a full size bed!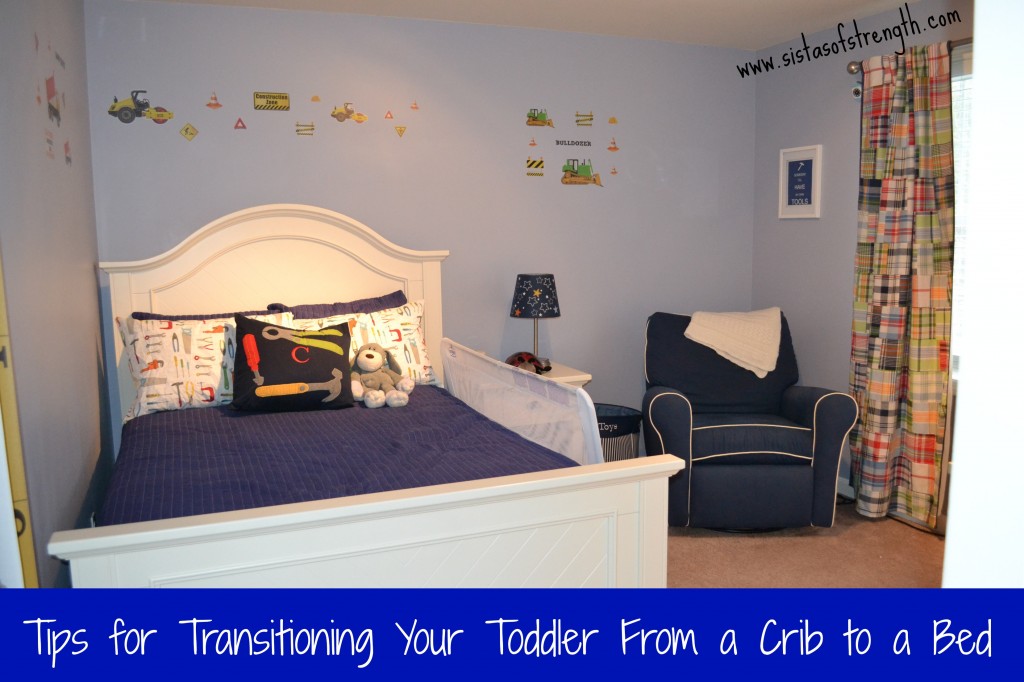 I love when other mom bloggers post about something I have been dealing with or a transition I have coming up with my own son so hopefully this helps alleviate at least one mom's fear of the crib to big boy bed transition.
Connor transitioned to a big boy bed a few months ago and despite my incredible fear, we survived just fine! There were a lot of other changes that were much harder (damn you night time bottle and constant nap time changes…so glad those are behind us!) so it was nice to see that this one went well, or at least better than expected.
A few tips and observations from our experience that will hopefully make your toddler's crib to toddler bed or big boy/girl bed a bit easier…
Make it exciting. Get rid of some baby stuff from the nursery at the same time and do a little room redo, choosing a theme that is something you know your toddler will love.
We went with tools and construction because Connor is absolutely obsessed with fixing things and has loved digger trucks for as long as I can remember. He was so pumped to see these tool sheets when we got them in the mail and I was pretty excited when I stumbled upon this step stool at HomeGoods that matched perfectly. I mean one step has tools and one has construction trucks. Amazing.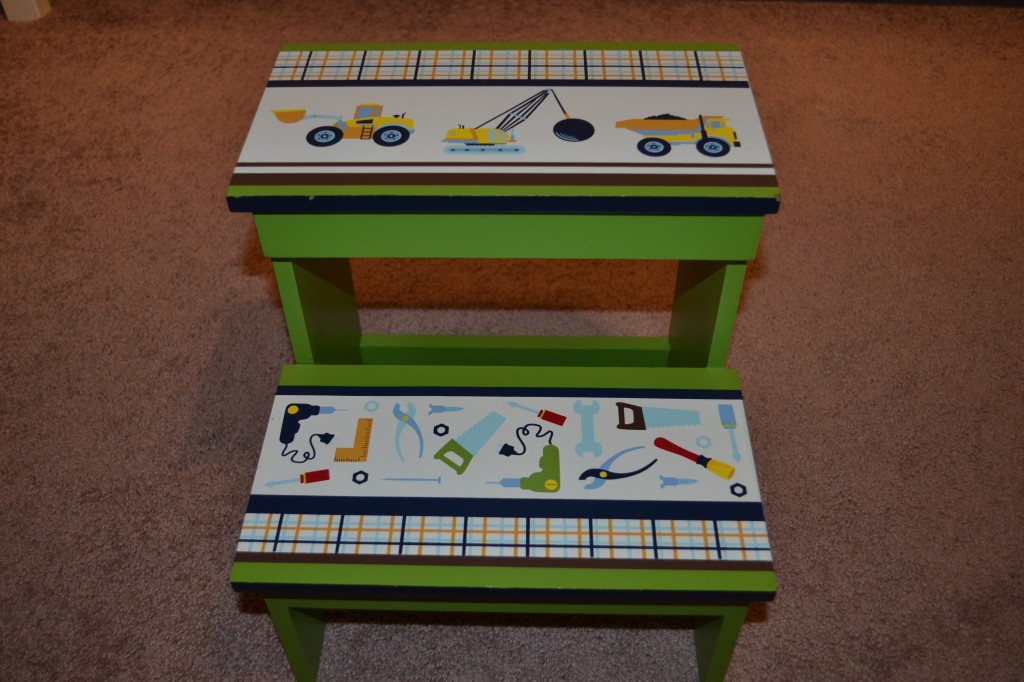 Check online if you're searching for something specific. I found tons of stuff online, including this super cute picture on minted. If you are trying to design a room for your toddler (or any room in your house!) I totally recommend checking this site out. It's awesome because they have such a variety of prints and you can change out the colors on most of them to match whatever you want. You get to preview what it will look like with different colors in the print and for the frame. Check out the site and see for yourself! So neat!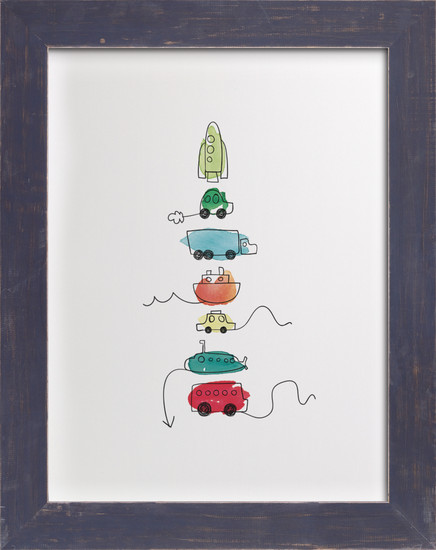 For the first few weeks/month Connor still called for us every single morning. He knew that he could get in and out of bed on his own (and did so all day long), but always called us in the morning and after nap time because he was so used to doing that when he slept in his crib. This didn't last, but did help make the transition easier.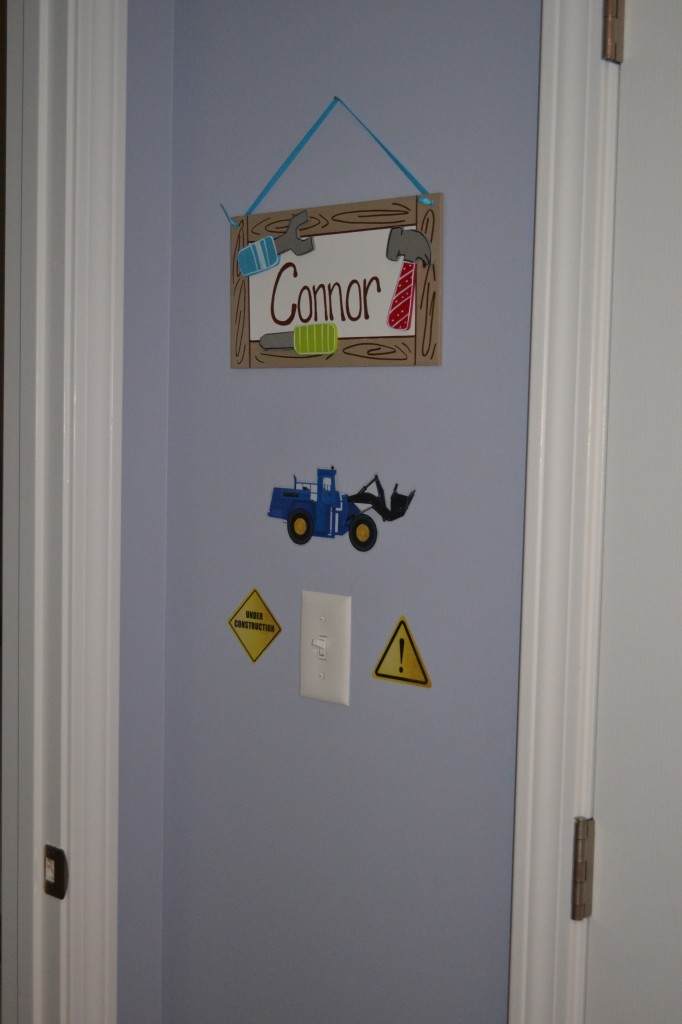 There's a little tool (no pun intended) that just may help your kid continue to sleep a little later the morning…or at least let you sleep a little later! My friend told me about this toddler traffic light and we have had some success with it. I think if I were to do this again I would start using the traffic light when he was a little younger. You know…start that brainwashing about sleep time and wake time a little earlier!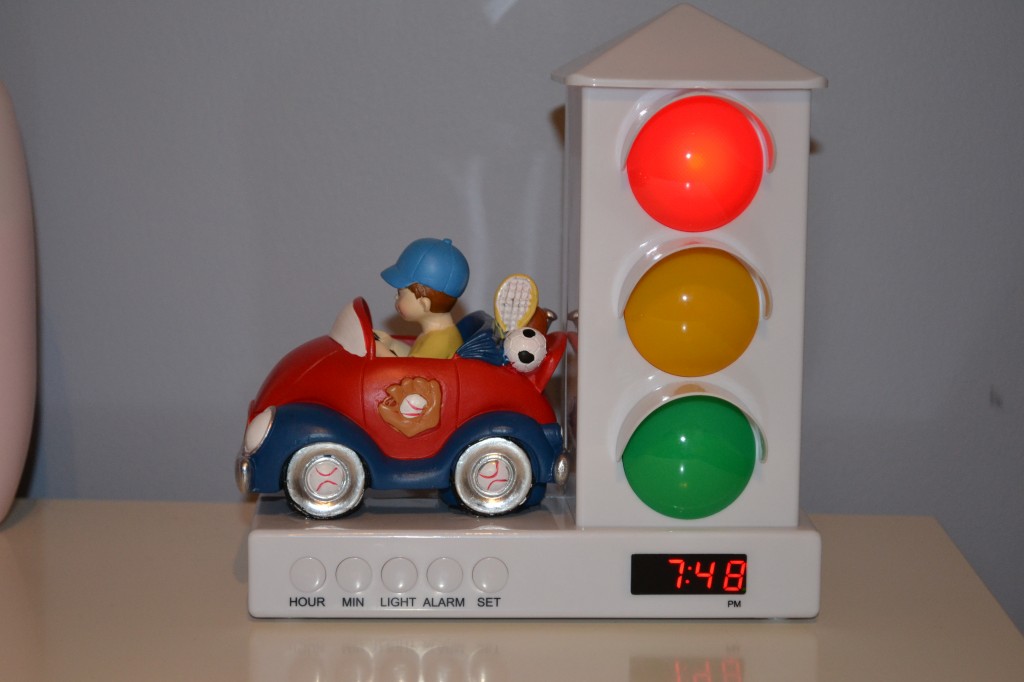 More advice from another friend. Skip the toddler bed and get a double bed if you have room. Two benefits here: you can lay with them on tough nights or as they fall asleep and it makes it easier to read stories at bedtime! He's getting big and I am small so snuggling in the chair isn't working that well anymore.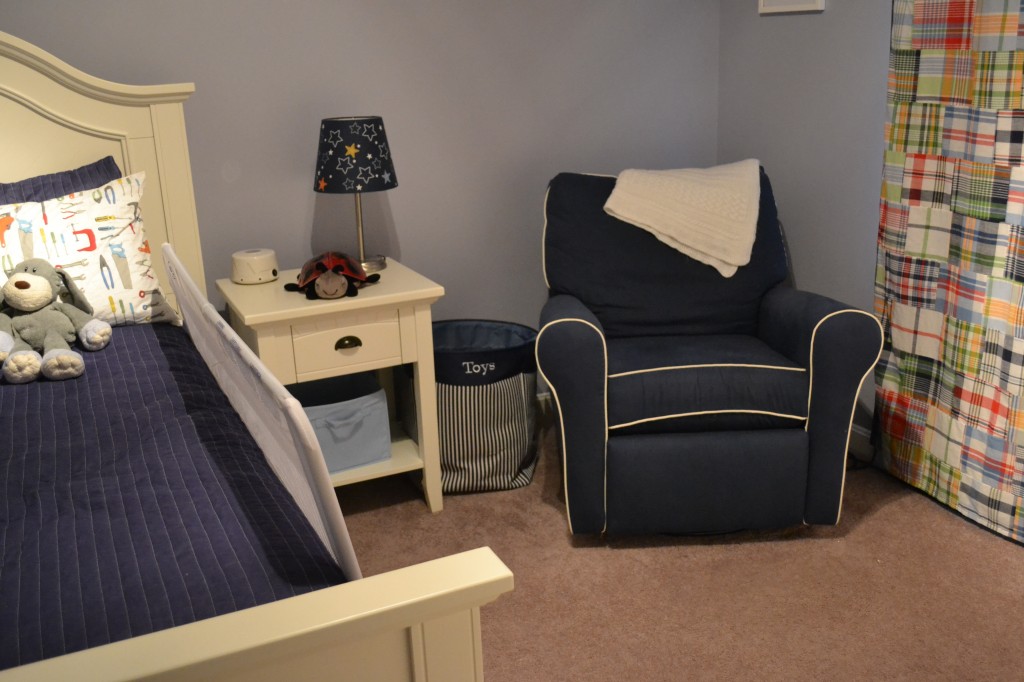 Bedrails help ease your mind. I got this hideaway bedrail after some advice from a few other moms and we have been happy with it so far although I definitely do not ever bother hiding it! I've also heard that you can put a swimming 'noodle' under the sheet at the edge of the bed and that may be enough of a barrier. I haven't tried this, but may check it out as a next step.
Don't stress about getting all done at once. If you're busy with other things like potty training or starting preschool, don't stress. Take it one thing at a time and be patient!
We are just about done with Connor's big boy room, but I still want to update what's on the shelves over his dresser or take them down because I haven't changed them since he was a baby. (Or dusted them very often, but that's a topic for another day…)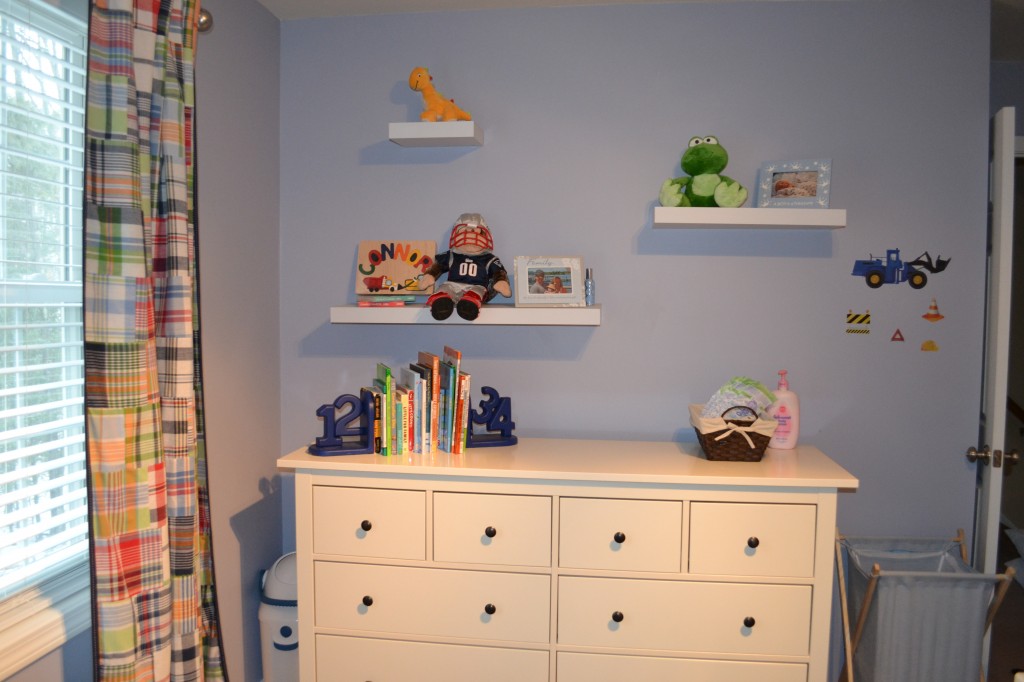 I also want to get rid of some of the stickers. (I love them…just feel like we need a little variety!)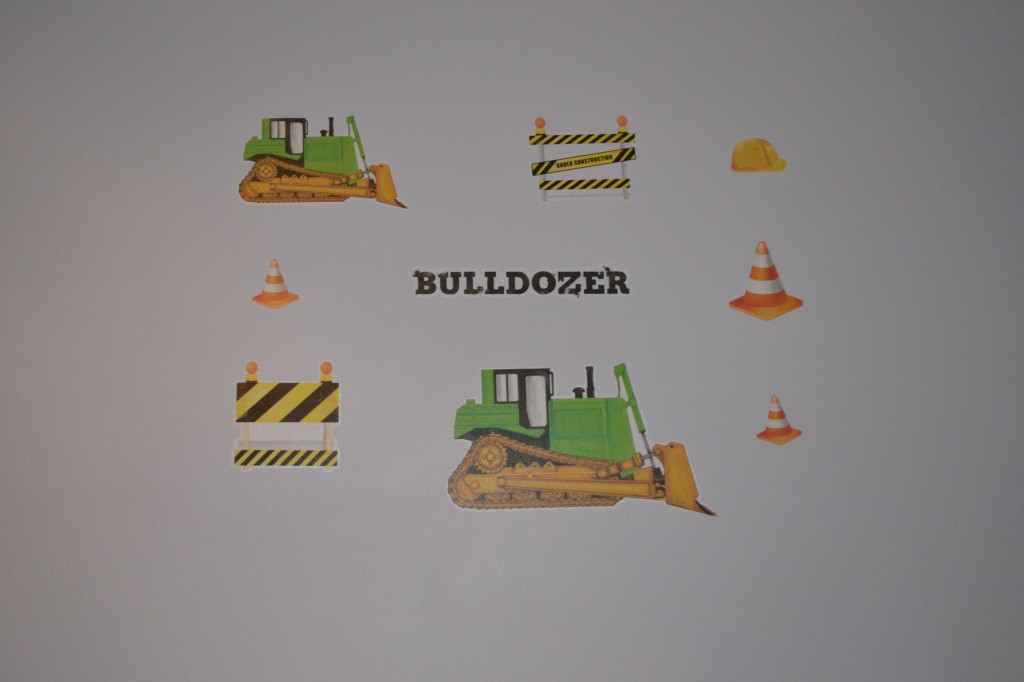 Don't stress – you're all going to be okay. Your kid will need sleep again…eventually. There may be a few middle-of-the-night scares when your kid shows up at your bedside, but you'll laugh about it later!
Moms, any tips on transitioning from a crib to a toddler bed or regular adult bed?