I could have named this post a number of things including…
How to Eat {Mostly} Healthy When Your Hunger is Through the Roof from Nursing
Eat Your Meals with One Hand
Staying Healthy When Sleep Deprived
Keeping Your Family Healthy When You're in the Postpartum Fog
Feeding Yourself When You're Always Busy Feeding a Newborn
You get the idea…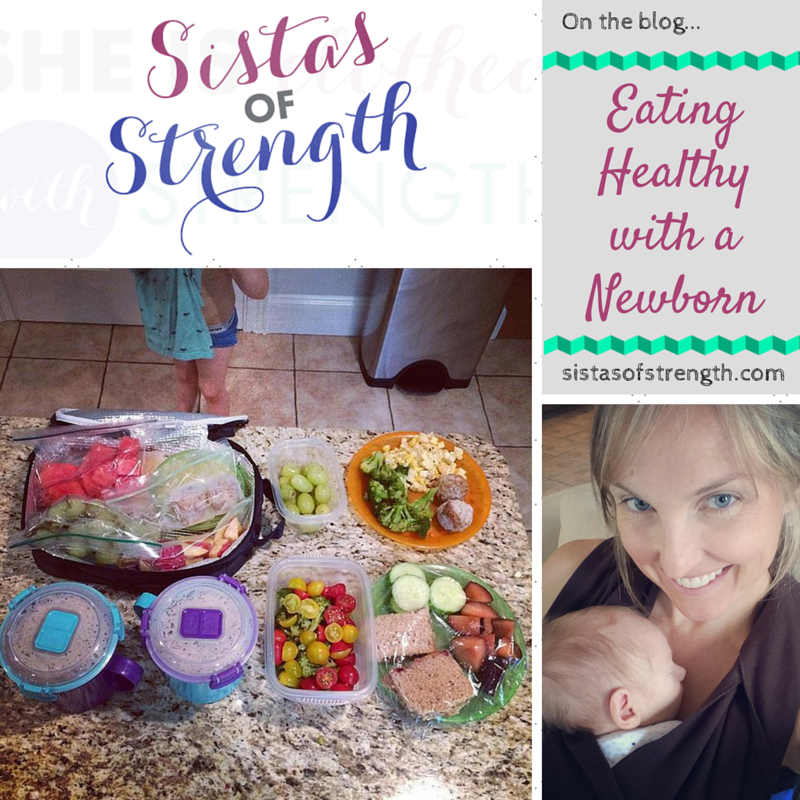 Just like I understand the struggle of finding time to train with a newborn, I feel your pain when it comes to eating healthy as a busy mama. Yes, I'm in the fitness industry, but guess what? I don't have a chef or someone following me around telling me what to eat. As a mom to a newborn, I'm dealing with hormones and lack of sleep just like all new mamas. I don't have any extra time or any more "willpower" than you do when I'm not sleeping enough and my hormones and hunger are raging! (Good thing my boys are cute…)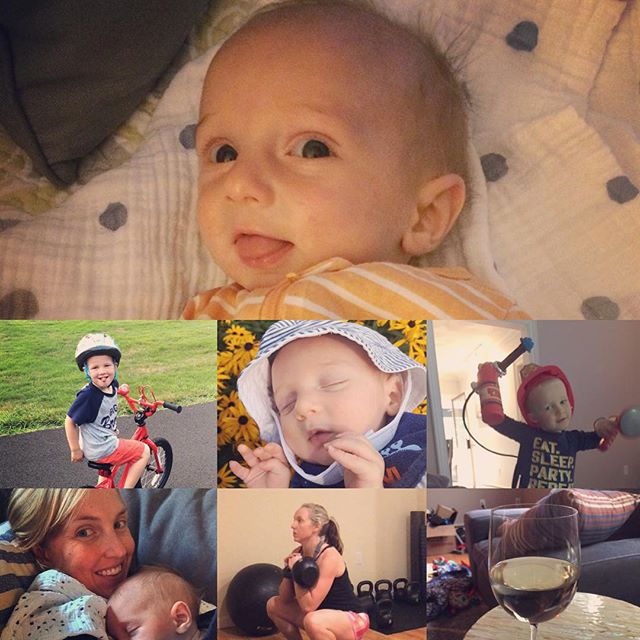 I get that it can feel a constant battle trying to eating healthy after you have a baby, whether it's your first child or you are taking care of a family and other children. It would be a lie if I told you that dinner goes great every night. There have been days I ate mostly protein bars and drank shakes because it was the only thing I could really get my hands on. We also have an awesome healthy-ish restaurant pretty close and you can call ahead to order and then go to the drive-thru window to pick it up. We ate here a few times a week when our kitchen was being done and I got tired of prepping dinner in the basement!
(You guys, I never really understood how awesome drive-thrus are until I had two kids!! I thought they were just for lazy people, but now I know that for new mamas seeking coffee, drive-thurs are amazeballs.)
Now that we are mostly unpacked and settled, we're finally getting in our groove and I'm ready to share a few things that are helping us eat healthy amidst the craziness!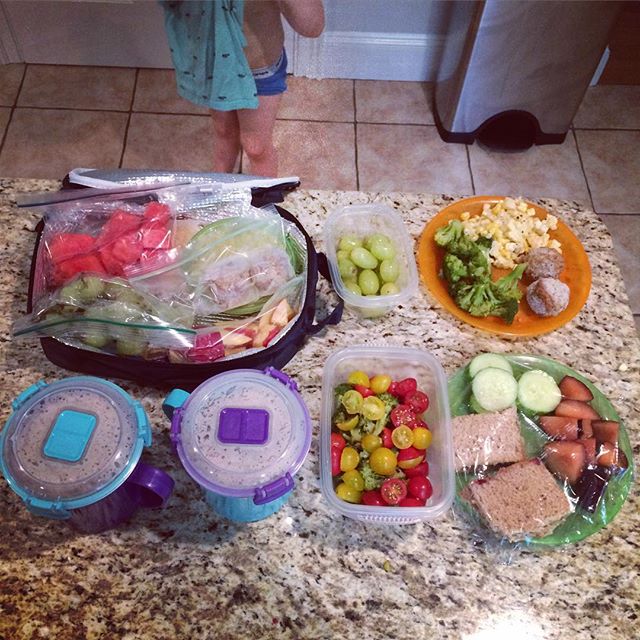 Postpartum Nutrition: Tips on Eating Well as a New Mama
1. Go to the grocery store.
Figure out how to get there. I know it can be tough with a baby still in a car seat…they take up the whole darn cart! Do your big shops when you have help or figure out a way to get to the store consistently. I've seen a lot of people wearing baby while shopping or you can just pack the groceries in around the babe! If you can't get to the store, look up one of the grocery delivery services near you. Sometimes paying a little more for convenience is so very worth it and now may be one of those times for you. Along the same line, if you don't like chopping up fruits and veggies, you can pay a little more and get the ones that are cut and ready to eat for now. You're worth it. 🙂
2. Prep food when you can.
Marinate meats, chop fruits and veggies and put together some foil packs for the grill. There have been so many times lately that I'm glad I planned ahead and marinated meat and prepped veggies for the grill. I generally do this in the morning or at lunch time. Then when dinner rolls around (witching hour here!) all I have to do is throw the meat and foil packs on the grill! You can either do this on the weekends when you have help, or even daily/every other day in the morning while everyone is still waking up (and behaving).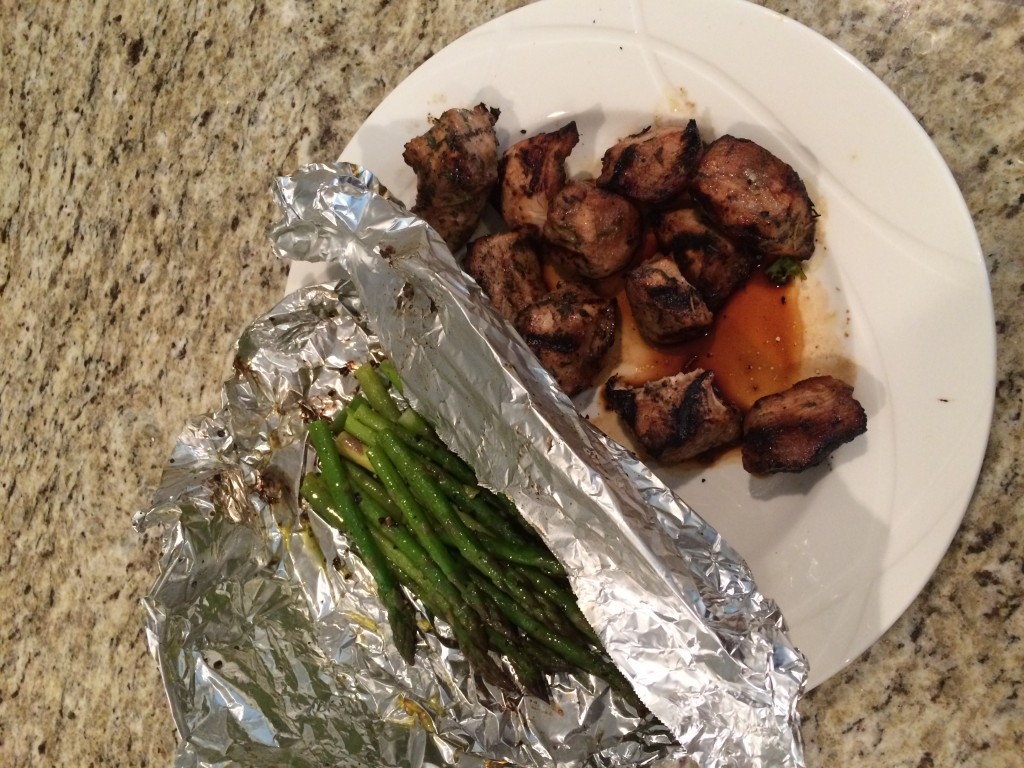 We love having our grilled chicken with foil packs of asparagus or broccoli. We also do squash or peppers or really any combo of veggies this way. Add some rice if you want extra carbs or wrap up some fresh corn on the cob the same way (spread with a bit of olive oil, salt, pepper, wrap in foil and throw on the grill when you're ready).
By the way…foil packs also make for wayyyy less dishes.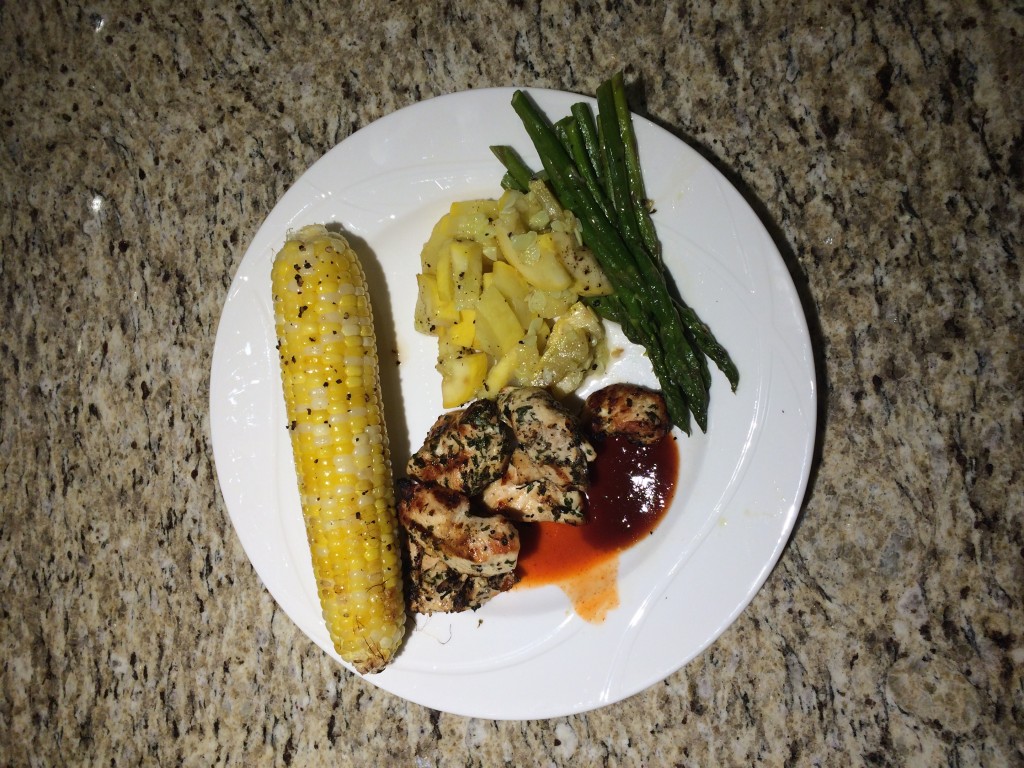 3. Assemble meals/plates/containers of food.
While you are marinating and chopping, get some actual meals together, or at least started. For example, if I'm making lunch for Connor and I one day, I'll also get his dinner plate started, make his lunch for school the next day and perhaps start a salad for my husband and I to eat with dinner.
Below you'll see I was prepping overnight oats on the far counter, cutting up tons of fruit for my son for lunches and snacks, prepping a salad for later, making a foil pack of asparagus, getting our plates together for lunch (and Connor's dinner) and unpictured was his school lunch for the following day (see below).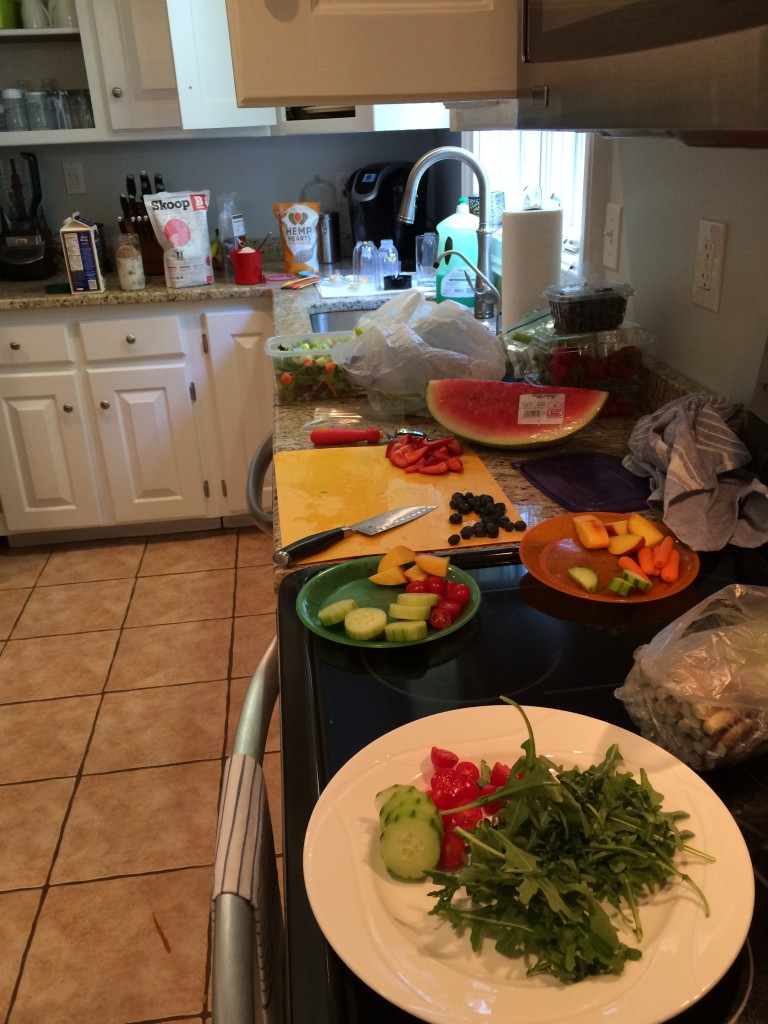 Not only is it nice that my four-year-old's food is ready when the hunger beast hits at a time I'm feeding Drew or busy doing something else, but it makes is much more likely that he'll have fruit and veggies on his plate instead of chips and PB&J for every meal.
I prepped what's below before lunch one day. You'll see Connor's plate started for lunch and dinner as well as his breakfast, lunch and snacks for school for the following day all set to go! All I had to add to these plates when it was time was some protein. I think this day I gave him eggs for lunch and cheese and chicken for dinner.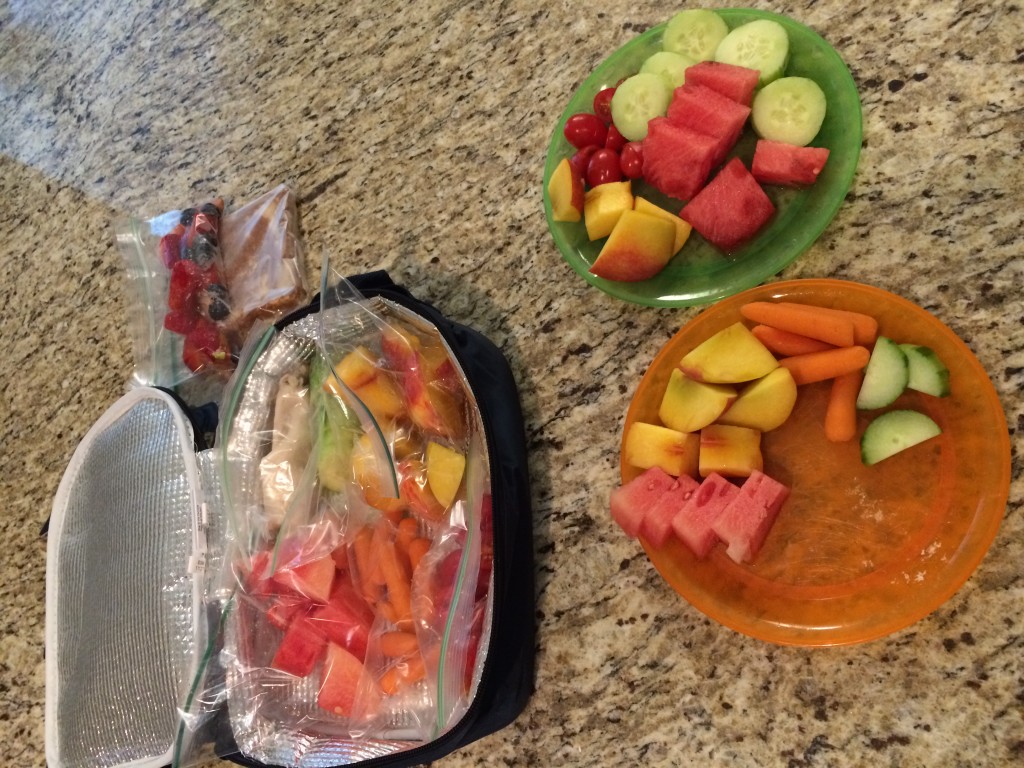 4. Plan meals you can make in bulk and/or in advance.
If you've been around for awhile you know that I love my overnight oats. It's something I've continued to have almost daily for breakfast with a newborn because it's so much less stressful knowing that my first meal is waiting for me in the fridge. Plus, oats are supposedly good for milk supply!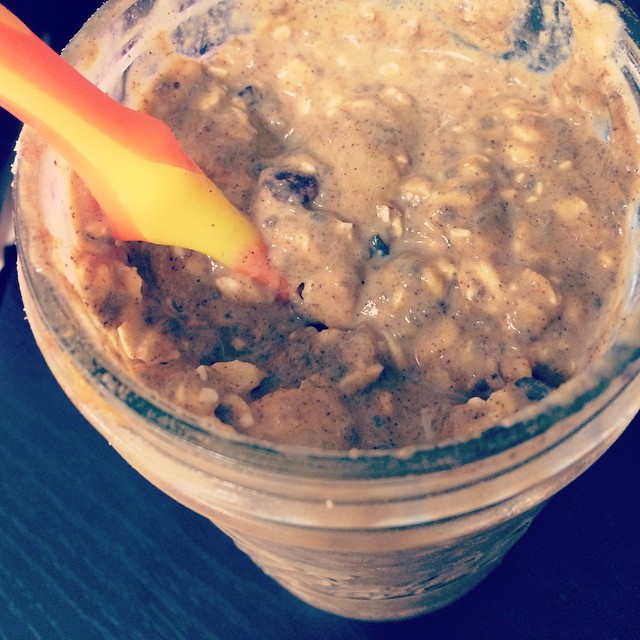 5. Cook extra and embrace leftovers.
I love having extra grilled chicken on hand. It's so easy to throw into a wrap, a quesadilla, a pizza on a tortilla, a big salad, etc. Easy peasy. Yes, we eat pizzas like this or quesadillas at least once a week. Sometimes two or three times.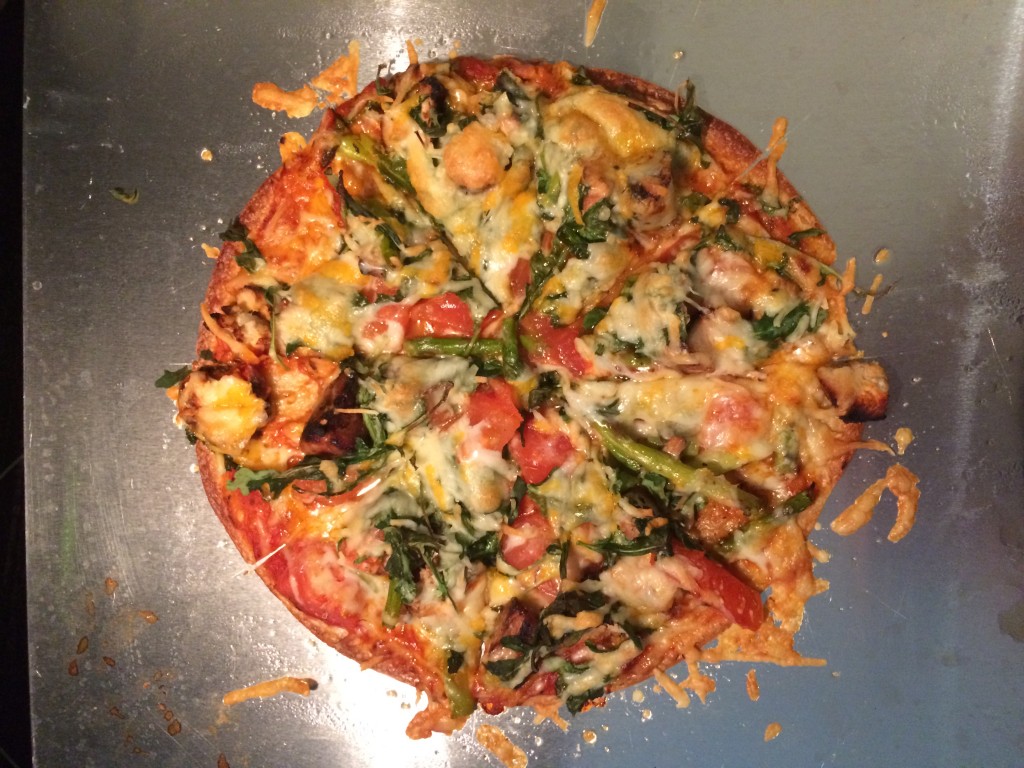 6. Get enough protein.
Use protein powder if you have to. (I definitely do.) Most days I'll have protein in my overnight oats and I'll also have a shake or add some chocolate protein powder to my coffee in the afternoon.  Sometimes when you're doing the grab-and-go thing, it's easy to forget the protein in your meals.
(Read: Protein Myths Shattered via Mike Vacanti.)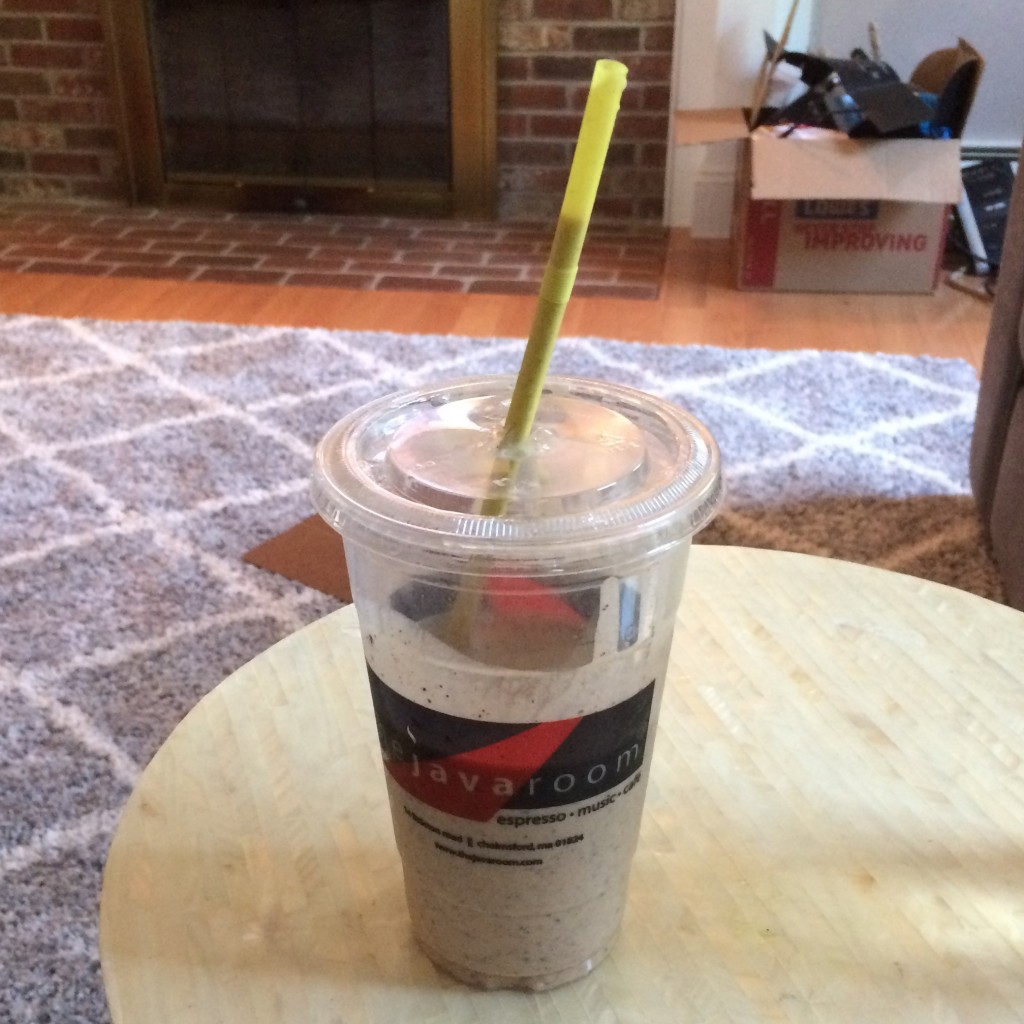 7. Don't get fancy.
I love making dinner, but when you're trying to eat healthy with a newborn you don't have to get fancy. We go with our standby meals a lot. Summer is easy because I seriously could eat a huge salad out of a mixing bowl every night and be happy. My favorite salad is arugula, spring mix, cucumbers, carrots and avocado. I also love to add hard-boiled egg, corn, apples, leftover roasted veggies (any kind!!!) and chicken when on hand. The more veggies and proteins the merrier. Sometimes I'll add a little cheddar cheese or a spoonful of hummus or both. Sometimes (okay…most of the time) I top with a few chips for good measure.  These chips are basically crack so if you have trouble with portion control do not purchase these.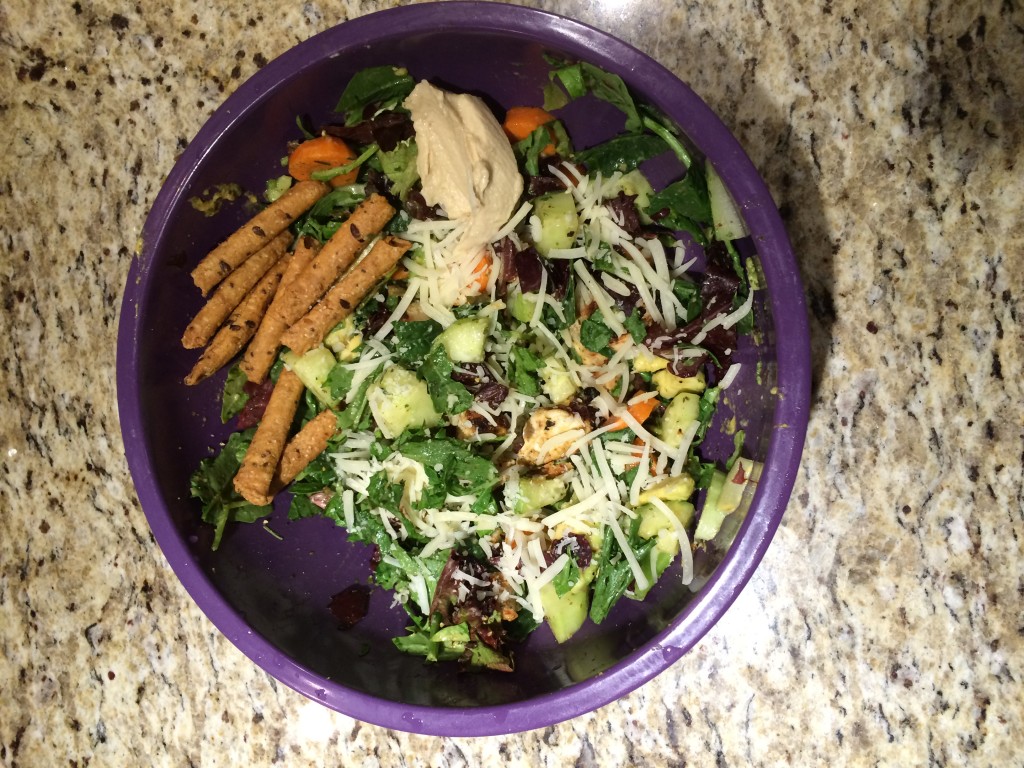 Speaking of chips…let's talk about this last point.
8. Don't be perfect.
It doesn't really matter if you have one kid, two kids or more. When you have a newborn you're probably busier than you were before and you can use all the time-saving tips you can get.
It can feel hard to eat healthy and to give your kid(s) healthy foods for lunch, but if you do a lot of food prep at one time it really isn't all that time consuming to all have a lot of produce in your life! #munchkinmeal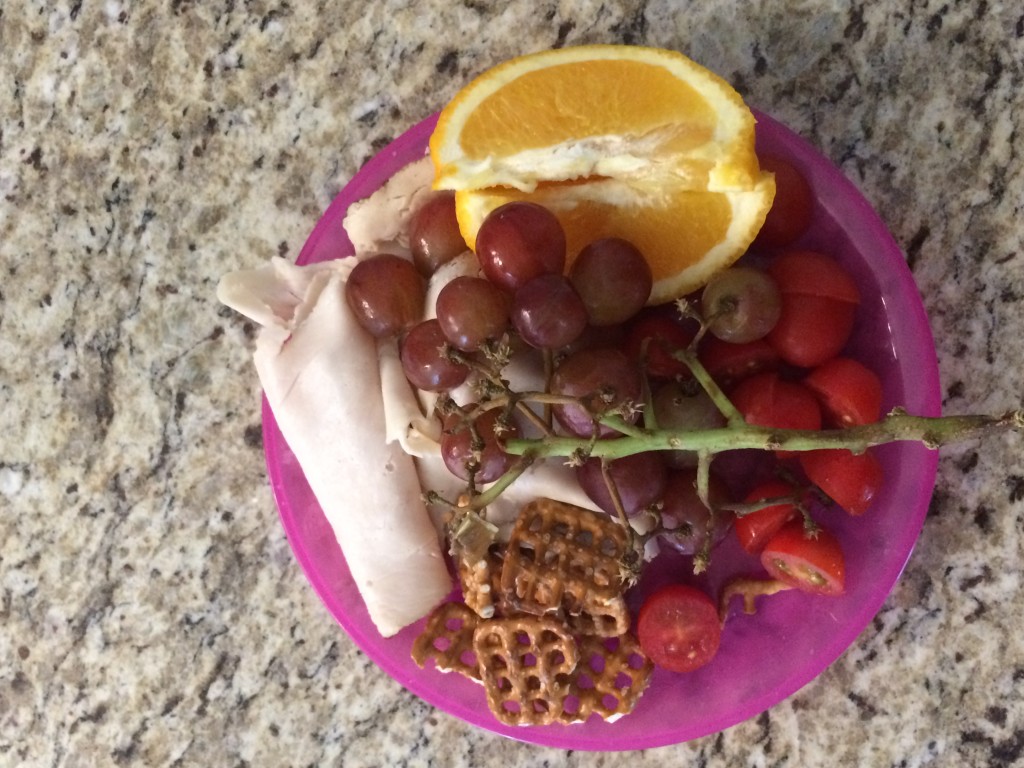 Moms, any other great food prep, eat-healthy-without-going-crazy types of tips for when you're crazy busy?